3 Relaxing Pheromones For Summer
Happy Friday, Love Scent fans!
Before we begin, two things!
First of all, our summer sale is now in effect! You can save 25% on your next order by using the coupon code SUMMERFUN at checkout. This offer is good on everything in the store: pheromones, cover scents, atomizers, essential oils, and more! So be sure to stock up on all your favorite pheromones and supplies!
Second, we'd like to announce our newest Weekly Special! As regular readers of this blog already know, every week we're taking one of our most popular products and offering it for 50% off. This gives you a chance to try new products or save big on your Love Scent favorites.
This week, you can save 50% on the Chikara Pheromone Mini!
The Chikara Pheromone Mini is the trial-size version of our extremely popular Chikara Pheromone Cologne for Men. It gives people interested in Chikara the chance to try out this popular formula before committing to a big bottle. It also gives people who already know they love Chikara the chance to buy a smaller, portable amount.
Chikara's popularity is thanks to two things: its excellent pheromone blend, and its distinctive fragrance. It contains a mix of social and sexual pheromones, including the ever-popular trio of Androstenone, Androsterone, and Androstenol. The pheromones complement each other nicely and allow you to cover all your pheromone bases with one product. The cover fragrance further enhances the pheromones by getting people's attention and drawing them close.
Thanks to its combination of pheromones, Chikara is an extremely versatile product. It enhances your sexual and romantic attractiveness, boosts your confidence, and puts you and everyone around you in a good mood. People like it both for its self-effects and its effects on others. The formula is also balanced enough to make it an appropriate choice for any occasion, from dates to business meetings.
And, for the next week, you can get the 1 ml Chikara Pheromone Mini for $7.45! This is a good chance to try this formula for the first time, or get a small amount for your collection to have on hand when you need it.
All right, now let's take a look at today's topic: relaxing pheromones for summer!
This summer will be a bit different for a lot of us. Travel plans, beach trips, backyard cookouts, and the usual summertime staples will not be possible for a lot of people. Many of us are having to rethink how to spend our time during these longer, warmer days. If you're one of the many people looking at a long-term "staycation" this summer, know that you're not alone!
One way to enjoy yourself during these uncertain times: use relaxing pheromones. These are pheromones that can reduce stress and generally put you in a good mood, whatever your personal circumstances. Family members and roommates will also benefit from the relaxing pheromones' mood-elevating and stress-relieving qualities, keeping things pleasant for everyone. You can wear them while streaming your favorite shows, relaxing on your deck, going for a walk in the park, working in your garden, or anywhere else!
Now, let's take a look at 3 of our best relaxing pheromones for summer!
1. Chikara for Men (starting at $7.45)
First on the list is Chikara for Men! As we said above, this popular formula contains a mix of social and sexual pheromones. The social pheromones are strong enough to prevent the sex pheromones from creating unwanted tension. It also has a wide range of positive self-effects, from an elevated mood to improved confidence. It's a great product for summer, even if you can't go to your favorite clubs and beaches. You'll enjoy your stay-at-home time all the more when you're wearing Chikara!
Chikara is available in a scented cologne and in an unscented spray. We recommend pairing the unscented spray with a fragrance of some kind. Apply to the pulse points and, if you want the full benefit of the self-effects, to the upper lip.
The scented Chikara is available in the 1 ml Chikara Mini ($7.45 for one week only) or the 15 ml Chikara Pheromone Cologne for Men ($49.95). The unscented Chikara is available in a 15 ml spray bottle ($59.95). Order now!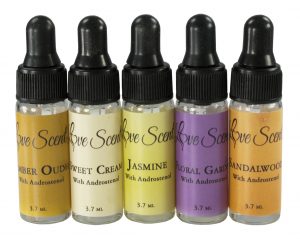 2. Love Scent Pheromone Oils ($9.95)
Next up: the Love Scent Pheromone Oils. These popular oils contain the social pheromone Androstenol, which is one of the best relaxing pheromones out there. It reduces stress and anxiety and improves the mood with no bad side effects to speak of. It's also virtually impossible to use too much Androstenol, making the Love Scent Pheromone Oils one of the best products for beginners.
The Love Scent Pheromone Oils are currently available in nine fragrance options. (Honeysuckle fans, don't worry–a restock is coming soon!) Summery fragrance options include Jasmine, Citrus, and Floral Garden. They all contain the same pheromones, so pick whatever scent you like! Apply to the pulse points and upper lip for best results.
A 3.7 ml eyedropper bottle of any of the Love Scent Pheromone Oils is yours for $9.95. Order today!
3. Liquid Trust ($24.95)
Liquid Trust isn't just one of our best relaxing pheromones; it's also one of our most popular products overall. This unscented spray contains an anxiety-reducing, mood-elevating, stress-relieving social pheromone. It's an excellent choice for anyone hoping to relax more, see the good side of life, and generally enjoy themselves in any situation. Wear it when hanging out at home or going for a walk in the fresh air, and you'll soon feel more at ease.
Unlike most unscented pheromones, Liquid Trust requires no cover fragrance. Just apply it to the wrists, around the neck, and to the upper lip.
A 7.5 ml bottle of Liquid Trust is yours for $24.95. This is a great starter pheromone and an excellent choice for summertime relaxation, so order today!
There you have it, Love Scent fans! Our best relaxing pheromones for the summer ahead. However you're spending your summer in these strange times, we hope one of these pheromones helps you and your loved ones enjoy yourselves.
What are your favorite relaxing pheromones? Are they on this list, or do you have another recommendation to share? Will you be making use of them this summer? Share your thoughts in the comments! You can also contact us directly with your comments, questions, and concerns. And don't forget to subscribe to our newsletter to be the first to hear about blog posts, new products, promotions, and more!
These statements have not been evaluated by the Food and Drug Administration. These products are not intended to diagnose, treat, cure, or prevent any disease.