Enhance Your Workout With Love Scent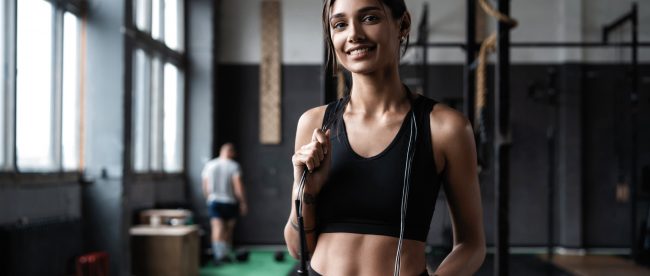 Happy Friday, Love Scent fans! And welcome to 2020!
To get the new year (and new decade) started off right, we're still offering 30% off your next order. Just use the code HAPPYNEWYEAR at checkout to get your savings!
Also in honor of the new year, and specifically in honor the many people who have committed to focusing on their physical health in the coming year, today we're going to be looking at ways to enhance your workouts with Love Scent.
First of all, we'd like to wish good luck to all those who have resolved to get more exercise in 2020. This is a popular resolution every single year, and there are many reasons people make it: to get healthier, to get stronger, to train for specific goals (like a marathon or challenging hike), to reduce stress, to channel their energy into something constructive, and more. Whatever your reasons are, we hope you meet your goals!
Remember, the key to achieving a New Year's resolution is to have specific, realistic goals in mind. Don't set too high a bar for yourself, and don't be too hard on yourself either. Real, lasting change takes time–as much time as you personally need!
And to help you achieve your resolution, we have some recommendations for you! Here are some products that can help keep you energized, stimulated, and confident–exactly what you need to take on your New Year's resolution workout goals!
1. Essential Oils (starting at $4.95)
If you like natural solutions to your challenges, essential oils are for you. These plant-derived oils have been used for centuries for all sorts of purposes–including keeping your energy and confidence levels high. When properly diluted, essential oils are an all-natural goldmine, and can greatly benefit anyone starting a new exercise regimen.
We have six varieties of essential oils for you to choose from. Some, like Peppermint and Eucalyptus, energize you in both physical (increasing circulation) and mental (improving focus) ways. Others, such as Sweet Orange, put you in the good mood you need to tackle a challenge. Meanwhile, Lemongrass and Tea Tree oils keep your muscles and skin in good shape, and Lavender helps you wind down after a tough workout and reduces any anxiety related to your goals.
You can get all the above oils individually for $4.95, or get all six at once in our aromatherapy sampler for $29.95. Get a good start to the new year and order today!
2. Alpha-7 Unscented (starting at $14.95)
If you're going to need a boost of confidence as well as improved focus to achieve your New Year's fitness resolution, Alpha-7 could be the right pheromone for you. It contains two pheromones, the potent sex pheromone AndrosteNONE and the milder sex pheromone AndrosteRONE, which help with mental focus and self-confidence. Alpha-7 is a popular choice for those who need a boost of confidence and perceived authority in their dating and professional lives, but its self-effects also make it an excellent accompaniment to a new workout routine.
We typically recommend that you pair Alpha-7 Unscented with a cover fragrance, because it naturally smells of body odor–but this isn't as necessary when you're going to be breaking a sweat anyway. If you'd like to pair it with a scent, try blending it with a diluted essential oil (Peppermint's a good choice) and applying it right under your nose to take full advantage of its self-effects. You won't need much: a drop of Alpha-7 is probably more than you need.
You can try Alpha-7 Unscented in the 1 ml Alpha-7 Mini for $14.95, or in a 10 ml bottle for $59.95. Give yourself a confident edge by ordering today!
3. Pure AndrosteNONE ($49.95)
If you'd like to experiment with the sex pheromone AndrosteNONE by itself, we have the pure stuff available for you. At 1 mg of dry pheromones per ml of carrier liquid, this product has the highest available concentration for a pure pheromone (higher concentrations do not remain stable and tend to re-crystallize), and is ideal for making customized DIY pheromone blends. Its carrier blends DPG with ethanol to protect against evaporation loss and promote long-term shelf stability. If you're interested in the confidence-boosting, focus-enhancing effects of AndrosteNONE, this is a great way to experiment.
Because of its high concentration, a little bit of our pure AndrosteNONE goes a very long way; just a few drops diluted in a small bottle of your favorite fragrance or essential oil blend can make a potent pheromone fragrance. To enhance your new workout routine, we recommend adding it to a dilution of a stimulating essential oil or diluting it in a plain cosmetics-grade oil and applying it under your nose. This gives you the best chance at experiencing the pheromone's self-effects.
A 6 ml bottle of pure AndrosteNONE is yours for $49.95. That little bottle will last you a while, helping you meet your fitness goals throughout the year to come!
There you have it, Love Scent fans! If your New Year's resolution is to get more exercise this year, we hope you give one of the above products a try. And don't forget to apply the discount code HAPPYNEWYEAR at checkout to save 30% on your entire order!
Have you used pheromones or essential oils as part of your fitness regimen? Have you used something on this list, or do you have a different recommendation you'd like to share? Let us know in the comments! You can also feel free to contact us directly with your questions, comments, and concerns. And be sure to subscribe to our newsletter to be the first to hear about blog posts, new products, exclusive promotions, and more!
These statements have not been evaluated by the Food and Drug Administration. These products are not intended to diagnose, treat, cure, or prevent any disease.