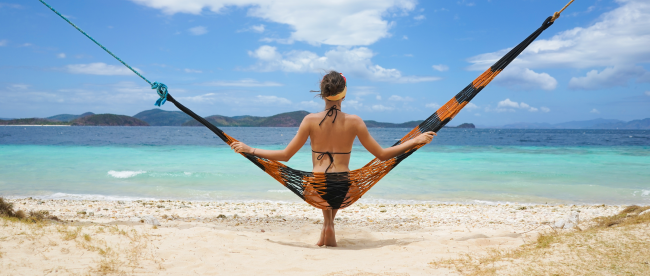 Happy Friday, Love Scent fans!
This week, we're going to take a look at some Love Scent offerings that will help you kick back and relax!
Summertime is prime vacation season, and we all want to take advantage of our well-earned time off. If you're headed on some adventures soon and want something that will help you relax and let go off all the stresses of your everyday life, we can help! If your only vacation this year is an errand-free weekend off, we can help you make the most of that too! Whatever amount of time you get to spend just relaxing, we can help you get as much enjoyment as possible out of the quiet moments.
Let's take a look!
1. Nag Champa Incense ($1.95/box)
Nag Champa is an Indian incense that people all over the world have been enjoying for many years. Its soothing aroma promotes relaxation and mindfulness, making it a popular accompaniment to meditation and yoga, and the scent lingers for hours after the incense itself has stopped burning. If you practice meditation or yoga, or simply enjoy filling your space with calming fragrances, you are sure to enjoy Nag Champa.
Each 15 gram box of Nag Champa incense contains about 15 hand-rolled incense sticks. Each stick is made of a blend of resins and flowers, including sandalwood and halmaddi resin, and burns for about 45 minutes.
Each box of Nag Champa incense is $1.95. Order a box or two today!
2. Essential Oils (starting at $4.95)
Many people turn to essential oils as an all-natural aid to relaxation. These oils are derived from plants and have been used in aromatherapy for centuries. You can put them in diffusers to spread their goodness through the air, add them to massage oils, dilute them with alcohol to make air fresheners and linen sprays, make aromatherapy inhalers to take with you wherever you need to go (whether it's to the office or to your weekend getaway), and much more.
Some essential oils are better relaxation aids than others, though effects can vary from person to person. By far the most popular oil for relaxation is Lavender: it soothes away anxiety and stress and gently induces a state of tranquility, leading many people to use it as an all-natural sleep and relaxation aid. Other soothing essential oils include Lemongrass and Sweet Orange, both of which have been shown to improve mood and promote an overall relaxed and happy mental state.
If you would like to experiment with a few different essential oils, you can do so with our Zellous Essential Oils Aromatherapy Sampler, which contains 6 different essential oils for $29.95. If you already know what you want, you can purchase individual bottles of Lavender, Lemongrass, Sweet Orange, Eucalyptus, Tea Tree, or Peppermint essential oil for $4.95 a bottle. Order now!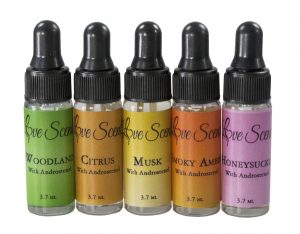 3. Love Scent Pheromone Oils ($9.95)
The Love Scent Pheromone Oils contain AndrosteNOL, a pheromone known for its wide range of positive effects. It can make you (and everyone around you) friendlier and more carefree than normal, an effect that has earned it the nickname "the icebreaker pheromone," as well as reduce anxiety and elevate the mood. Many people find that AndrosteNOL-based products help them feel better about everything in their lives and get more enjoyment out of free time.
The Love Scent Pheromone Oils are available in ten different fragrances. They should be applied to the pulse points for best results; many people also like to put a dab under their own noses so they can get maximum exposure to the oils' soothing effects.
A 3.7 ml eyedropper bottle of any of the Love Scent Pheromone Oils fragrances is yours for $9.95. Try them today!
4. Liquid Trust ($29.95)
Liquid Trust is an unscented spray and one of our most popular products overall. It contains an important social hormone that regulates many aspects of human behavior, especially social and familial bonding, and naturally helps reduce anxiety and stress and other unpleasant emotions. Many people wear it just for its self-effects, spraying it around their neck and under their nose to benefit from its relaxing and mood-elevating properties.
Unlike most of our unscented products, Liquid Trust does not need to be combined with a cover scent–though you can wear it with your favorite fragrance if you wish. Spray it on the neck and pulse points and, if desired, under your nose.
A 7.5 ml atomizer of Liquid Trust is yours for $29.95. Order now!
5. Super Primal for Him ($59.95)
Super Primal for Him is an unscented pheromone concentrate that, despite its name, can be worn by people of any gender. It contains AndrosteNOL, the mood-elevating, relaxation-promoting pheromone also found in the Love Scent Pheromone Oils. AndrosteNOL can help you let go of your worries and anxieties and make the most of your free time, whether you want to go out adventuring with friends, enjoy quality family time, or just have a quiet few hours all to yourself.
Super Primal for Him is unscented, and its natural pheromone odor is not too strong–meaning that it can be worn with or without a cover scent. Many people use it to turn their favorite fragrance into a DIY pheromone cologne or perfume, but it can also be worn by itself. Apply to the wrists, throat, and behind the ears.
A large 2 oz eyedropper bottle of Super Primal for Him is yours for $59.95. Try it today!
There you have it, Love Scent fans! No matter how much free time you have to enjoy this summer, whether it's a week-long vacation, a weekend getaway, or just a quiet Saturday afternoon, we hope one of these products will help you make the most of it!
Have you used any of the above products to aid in your well-earned relaxation? Do you have any other recommendations you'd like to share? Tell us about it in the comments! You can also contact us directly with your questions, comments, and concerns. And be sure to subscribe to our newsletter to be the first to hear about blog posts, new products, exclusive promotions, and more!
These statements have not been evaluated by the Food and Drug Administration. These products are not intended to diagnose, treat, cure, or prevent any disease.