3 Pheromones For A Job Interview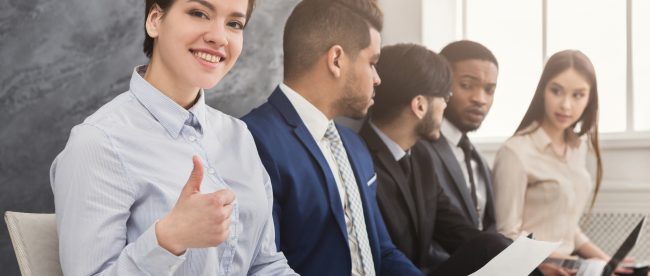 Happy Friday, Love Scent fans!
First of all, we wish all the mothers, grandmothers, and mother figures in the Love Scent family a very happy Mother's Day! To celebrate, we're offering an additional $20 off our Super Primal for Her! Normally on sale for $59.95, this popular product is now available for $39.95! Take advantage of these savings while they last!
And now, on to today's topic!
This week, we're going to take a look at some of the best pheromones to wear to a job interview.
There's no denying that job interviews can be stressful. Whether you're interviewing for your very first job, or trying for an entry-level position in what you hope will become your career field, or switching to a brand-new career path, it's normal to be nervous when sitting down before the interviewers. There are a lot of advice articles out there with plenty of recommendations, not just on job interviews but on first impressions in general (a topic we've covered recently). It's always good to be prepared, so we advise taking a look at those tips to help get in interview mode.
In addition to those preparations, we have some recommendations for pheromones that can help make the interview less stressful and more relaxed. These pheromones elevate the mood, reduce anxiety, make the wearer and everyone around them more sociable, and generally make interactions between people easier and more productive. They make great gifts for new graduates or people entering a new career field, or for anyone currently on the job market!
Let's take a look….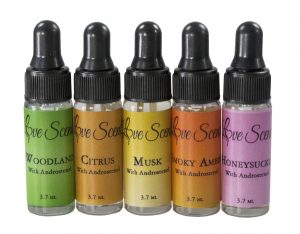 1. Love Scent Pheromone Oils ($9.95)
The Love Scent Pheromone Oils contain AndrosteNOL, also called "the icebreaker pheromone." This pheromone makes people more sociable, friendly, and approachable, and can reduce stress and put everyone in a better mood. Not only will your interviewers be impressed with your social magnetism, but you will feel more relaxed and ready for the task at hand. As pheromones for a job interview go, AndrosteNOL is tough to beat.
The Love Scent Pheromone Oils come in five fragrances: Woodland, Citrus, Musk, Smoky Amber, and Honeysuckle. For a job interview, it's best to choose an understated and non-irritating fragrance, so we recommend Musk, Citrus, or Honeysuckle–fresh, natural, and familiar fragrances that won't distract anyone from your qualifications or charisma. Apply a drop or two to your pulse points and a dab under your nose.
A 3.7 ml eyedropper bottle of Love Scent Pheromone Oils is $9.95. Get a bottle for yourself or a loved one today!
2. Liquid Trust ($29.95)
Liquid Trust is without a doubt one of our best pheromones for a job interview. This unscented unisex spray contains a social hormone that helps build trust and strong bonds between groups. It can make the wearer appear more trustworthy and dependable, and give the impression that you're already part of the team. It can also reduce anxiety, stress, and other forms of mental tension, making the interview experience more pleasant for you and those interviewing you.
Because it is unscented, Liquid Trust is ideal for workplaces that do not allow fragrances. That said, you can also combine it with your favorite cologne, perfume, or scented pheromone–just remember that job interviews call for a more understated fragrance! A few sprays of Liquid Trust to the pulse points and around the neck is all you need; if you are using a fragrance as well, apply it after the Liquid Trust has dried.
A 7.5 ml spray bottle of Liquid Trust is yours for $29.95. Order a bottle for yourself or a loved one now!
3. Super Primal for Him ($59.95)
Super Primal for Him, like the Love Scent Pheromone Oils, contains the "icebreaker pheromone" AndrosteNOL–one of the most reliable pheromones for a job interview thanks to its magnetic social effects. The main differences between the two products: Super Primal for Him comes in a much larger size (a 2 oz eyedropper bottle) and is unscented, so you can use it when interviewing for a workplace that does not allow fragrances. So, if you want the mood-elevating, charisma-enhancing, stress-relieving effects of AndrosteNOL without the fragrance, Super Primal for Him is for you!
Despite the name, Super Primal for Him can be worn by people of any gender. Just apply a few drops to your wrists and throat, and put a dab under your nose to take advantage of the self-effects. It can be used with or without a cover fragrance.
A large 2 oz eyedropper bottle of Super Primal for Him is $59.95. Treat yourself, a friend, or a family member to a bottle today!
And there you have it, Love Scent fans! Our top three pheromones for a job interview. If you are going to be interviewing for a job soon, we wish you the best of luck!
What are your go-to pheromones for a job interview? Is it something on this list, or do you have a different recommendation? Share your thoughts in the comments! You can also contact us directly with your comments, questions, and concerns. And be sure to subscribe to our newsletter to be the first to hear about blog posts, new products, exclusive promotions, and more!
These statements have not been evaluated by the Food and Drug Administration. These products are not intended to diagnose, treat, cure, or prevent any disease.