Beating Cabin Fever With Love Scent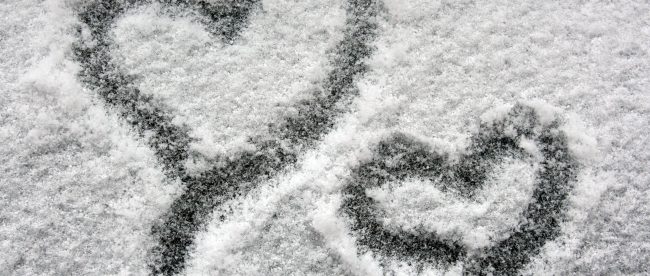 Happy Friday, Love Scent fans!
First of all, we'd like to share a savings opportunity with you! Tomorrow is Groundhog Day in the U.S., and in honor of this fun holiday we're offering 20% off your next order. Just use the code GROUNDHOG at checkout to get your savings!
Regardless of what the groundhogs have to say tomorrow, many of us are probably feeling like winter will never end this year. We hope those of you caught in snowstorms, ice storms, and Antarctic temperatures are staying warm and safe indoors!
And if all that time inside hiding out from the cold is starting to make you restless, cramped, or maybe even a little irritable, don't worry–we have some ideas to help you out! Our catalog has plenty of mood-elevating, anxiety-reducing products with great self-effects for those tedious winter days. Whether you need to keep busy (maybe by learning a new skill or hobby) or just want to curl up under the blankets and binge your favorite shows, we've got suggestions for you.
Take a look!
1. Essential Oils (starting at $9.95)
Essential oils are an all-natural way to improve your emotional and physical well-being. They've been used for centuries in aromatherapy, meditation, massage therapy, and much more. You can use them in homemade perfumes, skincare and beauty products, aromatherapy blends for an inhaler or diffuser, and even natural DIY cleaning solutions and air fresheners.
Whether you just want to put some essential oils into your diffuser, or learn a whole new craft skill to pass the snowy days (some ideas are available here), essential oils are a great thing to have on hand at any time of year–but many of them have special benefits for wintertime and the cabin fever that accompanies it.
Take a look at some of the benefits of these oils:
Note: be sure to study up on essential oil safety before diving in. These are all-natural products, but do need to be used properly to avoid bad side effects! (Some basic information is available here.)
Any of the above oils are available for $4.95 a bottle, and are also available all together in the Aromatherapy Sampler for $29.95. Order today!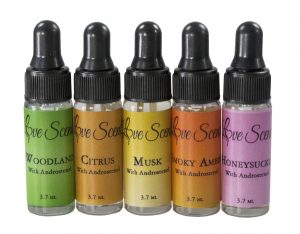 2. Love Scent Pheromone Oils ($9.95)
These potent and affordable oils are infused with the social pheromone AndrosteNOL, which helps put the wearer and everyone around them in a relaxed, laidback, carefree mood. Many pheromone fans enjoy wearing AndrosteNOL-based products just for themselves, putting a dab under their nose or high on their neck to make sure they get the full benefits. Whether you need something to help yourself relax, or want everyone in your house to be in a better mood, these oils can help.
The Love Scent Pheromone Oils come in five fragrances:
Woodland: a spicy, slightly smoky fragrance reminiscent of incense.
Citrus: the bright scent of citrus with soft floral undertones.
Musk: a fresh, clean Egyptian musk.
Smoky Amber: the classic scent of amber blended with masculine smoky notes.
Honeysuckle: the nostalgic, sweet scent of honeysuckle blossoms.
You can wear the Love Scent Pheromone Oils on their own, both for their self-effects and their effects on others, or in combination with other pheromones. (If you want to spend some time learning about pheromone mixing while you wait out the next winter storm, these oils are a great addition to your pheromone lab!)
A 3.7 ml eyedropper bottle of Love Scent Pheromone Oils is $9.95. Order your favorite scent today!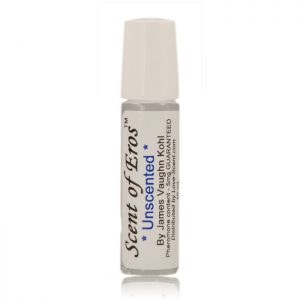 3. Scent of Eros Unscented ($49.95)
Scent of Eros Unscented contains the social pheromone AndrosteNOL and the mild sex pheromone AndrosteRONE. It is one of our most popular products, and that popularity is due in no small part to its mood-elevating and confidence-building properties. It can be worn solely for its self-effects, or to help put everyone around you in a better frame of mind. It's a good choice for anyone who is spending time in cramped quarters during bad winter weather.
Scent of Eros is unscented, but does not need to be worn with a cologne, so it's also a good choice for anyone living with someone who is sensitive to fragrances. Wear it on the pulse points for maximum effects on other people, and right under the nose for maximum effects on yourself.
Scent of Eros Unscented is $49.95 for a 10 ml bottle. Order today!
UPDATE: We no longer carry the Scent of Eros products. Try the Love Scent Pheromone Oils or Liquid Trust instead!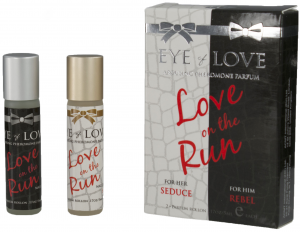 4. Eye of Love Couples Pheromone Kit ($19.95)
This is a great option for couples who want to spent some quality time together while the snow and ice pile up outside. Whether you want to catch up on your favorite shows, tackle household projects, or enjoy some intimate time together, this kit is an excellent way to improve your days spent inside with one another.
The kit includes two pheromones:
Rebel: a musk-scented AndrosteNOL-based cologne, Rebel elevates the mood and reduces anxiety in people of all genders. It can help put you both in the mood for everything from physical intimacy to a streaming marathon.
Seduce: an Estratetraenol-based perfume, Seduce has been shown to elevate men's moods and make straight men and gay and bisexual women feel greater attraction to their female partners. The floral cover fragrance is a blend of jasmine, bergamot, and Damascus rose, and will remind you of spring even in the gloomiest winter days.
These two products can be bought together in the Eye of Love Couples Pheromone Kit for $19.95, or individually for $9.95 per 5 ml roll-on bottle. Try them today!
UPDATE: We no longer carry the Eye of Love Couples Kit.
5. Liquid Trust ($29.95)
Liquid Trust, an unscented spray, is our most popular product overall for a reason: it has a wide range of beneficial effects, many of which help improve the mood and reduce stress and anxiety. Many people wear it for its self-effects and enjoy the sense of relaxation and contentment provided by its key ingredient (an important social pheromone), while plenty of others wear it to help the people around them relax and enjoy themselves more.
Liquid Trust is an ideal choice for anyone who needs a little help reducing stress or irritability while stuck inside during bad weather. It can also help you make the most of time spent with friends and family, as its key ingredient is important in making and strengthening social and romantic bonds. Whatever you plan to do to pass the time, Liquid Trust can make that time more enjoyable for everyone.
A 7.5 ml spray bottle of Liquid Trust is yours for $29.95. If you haven't tried it yet, now is the perfect opportunity!
There you have it, Love Scent fans! If you need help keeping your spirits up during these snowy winter days, we've got what you need. We hope you give one of the above products a try, and that you stay safe indoors when the weather gets rough outside. And don't forget to use the coupon code GROUNDHOG on your next order!
What's your go-to formula to stave off cabin fever? Do you use one of the above products, or do you have something else that you think works better? Share your suggestions in the comments! Also feel free to contact us directly with any of your questions, comments, and concerns. And be sure to subscribe to our newsletter to get free samples and to be the first to hear about blog posts, exclusive promotions, new products, and more!
These statements have not been evaluated by the Food and Drug Administration. These products are not intended to diagnose, treat, cure, or prevent any disease.