Welcome 2019 With Love Scent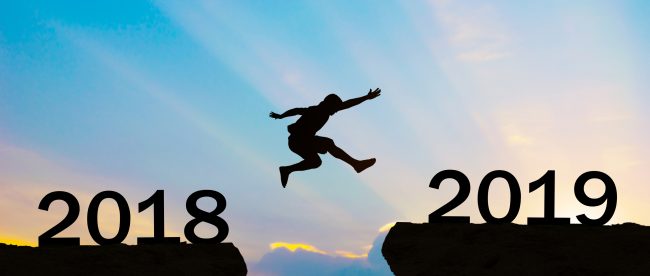 Happy Friday, Love Scent fans!
2018 is quickly drawing to a close, and in just a few days we'll be ringing in the new year. We at Love Scent wish you all the best in 2019!
To get the new year started off right, we're offering some big savings on all your pheromone needs! Just use the coupon code HAPPYNEWYEAR at checkout to save 35% on your full order. This offer is good on everything in the catalog and is the perfect chance for you to stock up on all your Love Scent favorites before the year ends!
We'd also like to take a look at some of our shared ambitions for the new year, and how we may be able to help!
New Year's resolutions are a popular tradition worldwide. A big change in the calendar is a convenient moment to make a big change in your life. But New Year's resolutions are also notoriously difficult to keep. This is often because we ask too much of ourselves, hoping to achieve goals that aren't practical in our current circumstances, or get frustrated when progress doesn't happen quickly and abandon the resolutions before we've had the chance to get started properly.
To better your chances of achieving your New Year's resolutions, it's important to be both practical and specific. For example, if your goal is to exercise more, set a specific target. Ask yourself how much exercise you want to be getting, and how practical that would be. For example, it's probably not practical to exercise for a solid two hours every day if you're a mother with small children and a busy schedule, because it will be difficult to find the time–not to mention, going from minimal exercise to two hours of exercise a day can knock you flat on your back within the first week! But a quick walk every day during your lunch break at work, plus a longer walk through the park on the weekends, is more doable. Setting specific and doable goals like this will make it easier for you to meet those goals. Then, next year, if you want to build on those goals and go further, you can!
It's also important not to give up as soon as you hit a snag in your plans. Don't have time to walk for one or two weeks? That's okay! You didn't fail in your resolution, you just went off-plan for a bit. You can pick up where you left off when you're able to again.
Finally, don't be afraid to get a little help with your resolution. Most people are happy to support friends and family as they work towards their goals, and having the right equipment can certainly make achieving some goals easier.
With these things in mind, let's take a look at some of the most common New Year's resolutions out there, and how we at Love Scent can help you meet them!
RESOLUTION #1: Exercise More / Lose Weight
This is consistently one of the most popular New Year's resolutions. Many of us want to lead healthier, happier lives, or feel that losing weight or exercising more will give our self-confidence a boost. If you're planning to exercise more or try to lose weight this year, for any reason, we wish you luck!
Several of our products can also give you an edge as you take on this common resolution. Having more energy and confidence from the get-go can motivate you to get moving and achieve your early targets; then, as you get more in shape and start feeling better, your energy and confidence will only continue to grow.
Some products that can help you meet your goals of exercising more and losing weight are:
Alpha-7: a mix of the stimulating AndrosteNONE and the confidence-building AndrosteRONE, Alpha-7 can give you the confidence and energy needed to get up and get moving. Pair its use with manageable, specific goals, and you're got a great start to meeting your resolution for the year.
Orange Oil: Orange essential oil has long been known for its energy-boosting, stimulating properties. It also creates a general feeling of warmth and well-being, which can help you forget your doubts and tackle your goals.
Lemongrass Oil: another stimulating oil with an energizing fragrance, Lemongrass essential oil is used in aromatherapy to relieve stress and tension–and to ease the pain of sore muscles. All good things when your goal is getting more exercise!
An added bonus of this resolution: exercising more increases your own natural pheromone levels, leading to greater self-confidence and attractiveness to others! Pretty cool, eh?
RESOLUTION #2: Get Organized
This is a very practical New Year's resolution, and one the vast majority of us could benefit from. Being disorganized can lead to stress, anxiety, and tension, all of which can have a negative impact on our overall quality of life.
Part of getting organized is staying focused. It's hard to keep things orderly and well-managed when our brains are scattered. And while it can be difficult to stay focused in our often-hectic lives, a little bit of dedication can make all the difference. Set aside some time every month to get your room, house, office, or anything else in order. Getting and staying organized is an ongoing process, not a one-time deal!
If you need a little help with staying focused on your organization, we've got some things that might help:
Peppermint Oil: a stimulating oil that has long been used in aromatherapy to help with focus and concentration, Peppermint essential oil also has a familiar, soothing fragrance. Inhaling the oil's aroma can help you buckle down and focus on the task at hand.
Love Scent Pheromone Oils: the Love Scent Pheromone Oils contain AndrosteNOL, a stress-relieving and anxiety-reducing pheromone that, research shows, can help with focus and concentration. With five scents to choose from, you're sure to find one that suits your tastes.
Eucalyptus Oil: Eucalyptus oil is often used to help with respiratory problems, but it also helps stimulate mental activity and concentration. If your brain feels fuzzy when you're trying to organize your things, a whiff of Eucalyptus can help get you back on track.
If you're ready to get organized this year, give one of the above products a try. They just might give you the boost you need to get things done!
RESOLUTION #3: Learn A New Skill/Hobby
There are many benefits to learning a new skill or picking up a new hobby. It keeps your brain sharp and your mind active, gives you a sense of accomplishment, and teaches you something new that you can practically apply to your own life. No wonder it's such a common resolution!
Now, trying to learn an extremely difficult skill within a year can be a tall order–too tall an order for most people. You probably won't be able to become an expert photographer, learn to fly jets, or learn to build houses by the end of the year, unless you're building off of many previous years' worth of learning. If you're entering completely new territory, set a smaller goal for yourself, and aspire to get your feet wet with a new skill rather than become an expert within twelve short months.
If you'd like to learn something new and doable this year, we have a few ideas for you!
DIY Pheromone Colognes/Perfumes: if you've been using pheromones for a while and want to learn how to make customized pheromone blends that are tailored to meet your exact needs, we've got what you need. Take a look at some of our advice and instructions to help you get started!
Couples Massage: if you'd like to learn a new skill that also helps you create a closer and better relationship with your partner, we recommend learning about couples massage! We don't mean the sort of couples massage where you both go to the spa together (though that's often a wonderful experience); we mean learning to massage one another! Take a look in your area for an instructor who can teach you and your partner this intimate skill. Our pheromone-infused massage candles will help set the mood when the time comes to try it out together!
Aromatherapy: becoming a certified aromatherapist takes years of hard work and study, but building off of professional knowledge to create your own aromatherapy blends at home is an easier task. Get an aromatherapy guide from a local bookstore or library and an aromatherapy sampler to get started, and learn how to make your own customized blends for your diffuser or inhaler right at home!
Learning a new skill or hobby this year doesn't have to be a daunting task. Just think of it as an opportunity to learn more about something that interests you, and then set aside some time every week or month to learn more. You've earned it!
RESOLUTION #4: Spend More Time With Family And Friends
If this is your resolution this year, we salute you! So many cultures focus so much on work and financial success that relationships are often left by the wayside. This is actually a big problem, health-wise: having good relationships and a solid social circle is absolutely crucial to our mental and physical well-being. It is never a bad time to dedicate some time and attention to your family and friends.
Unfortunately, a lot of us suffer from social anxiety and other mental challenges to having a well-developed social network. In severe cases, there is no quick fix for these challenges. In other cases, all it takes is a little bit of relaxation before you're ready to really dedicate yourself to spending quality time with your loved ones.
If you'd like to get the most out of your time spent with family and friends, or need a little help preparing to do so, we have some things that can help you out:
Liquid Trust: perhaps the most socially-oriented of all our products, Liquid Trust contains a social hormone that promotes bonding and trust in groups, whether those groups are made up of family members or friends. It can help you relax and enjoy time spent with your loved ones, and create a stronger bond between all of you.
AndrosteNOL: this powerhouse of a social pheromone is often called "the icebreaker pheromone." It is known to elevate the mood, reduce stress, alleviate anxiety, and generally make people more happy, sociable, and in tune with each other's needs. Add some of the pure stuff to your favorite fragrance or just put a dab on your wrists, throat, and upper lip to enjoy the many benefits.
If you're planning to spend more time with family and friends this year and want to make the most of your time together, the products above can help you out. Remember, these relationships are important to your mental and physical health, so spending more time with your loved ones is one of the best goals you can have!
RESOLUTION #5: Save Money
This is one of the most common resolutions out there. It's never a bad idea to save money, whether you plan to put some aside at the end of every month or cut down on unnecessary expenses. Even small savings add up to big amounts over time!
That said, depriving yourself of your favorite things is a good way to doom this resolution to failure. You don't need to completely cut all "unnecessary" expenses out of your life, because doing so ends up cutting out a lot of the simple pleasures that make our lives enjoyable. Remember: set specific and practical goals! If you're worried that you spend too much money eating out, don't resolve to never eat out at all this year; just limit the number of times you do, limiting yourself to a number that is practical and reasonable for your particular lifestyle.
And, if you want to save money on pheromones specifically, remember that you can get started right now! Use the code HAPPYNEWYEAR at checkout to save 35%. Also sign up for our newsletter or follow us on Facebook and Twitter so that you never miss our many opportunities for savings throughout the year!
There you have it, Love Scent fans! If you plan on tackling any of these New Year's resolutions in 2019, we hope you'll let us help you achieve your goals!
Are you planning to make any New Year's resolutions for 2019? If so, is your resolution on this list? Or do you have different goals in mind? Let us know in the comments! We're always happy to hear from you!
These statements have not been evaluated by the Food and Drug Administration. These products are not intended to diagnose, treat, cure, or prevent any disease.