7 Convenient Pheromones For A Night Out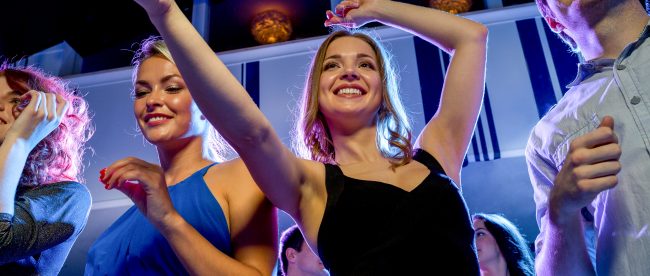 Happy Friday, Love Scent fans!
First of all, it's almost Halloween! We're celebrating here at Love Scent by offering 31% off your next order. Just use the code LUVHALLOWEEN at checkout to get your savings!
We hope you all have a fun holiday, whether you're planning a costume party, taking your kids trick-or-treating, or leaving a bowl of candy outside your door and settling in to binge your favorite Halloween flicks!
Now, on to today's topic: some portable, hassle-free, and convenient pheromones for a night out!
A lot of people use pheromones to make their night out all the more enjoyable. Pheromones can help you relax and unwind at the end of a long week, put yourself and your friends in a good mood, meet someone new, attract a new or existing partner,and generally help make the night a lot more fun!
Now, under normal circumstances, pheromones will last 6-8 hours on your skin. After that, your skin has broken them down, which is part of your skin's natural process of cleaning and defending itself against dirt and pathogens. However, if you're being very active and sweating a lot (because you're busy dancing, for example, or wore a heavy costume to a crowded costume party), your pheromones won't last as long. If you're going to be sweating a lot, it's good to bring your pheromones with you so you can refresh them on the go.
It's not always easy to bring pheromones along with you, though. You don't want to break or lose a large bottle of your favorite pheromones while running from club to club with your friends, and measuring out exact drops of your favorite unscented pheromone and then spraying your cover fragrance over it isn't always something that can be quickly and conveniently done just by ducking off the dance floor or running by the restroom.
Luckily, you can make things a lot easier on yourself by choosing a pheromone that is portable and convenient to begin with!
If you're looking for portable, convenient pheromones for a night out, keep reading–we have some ideas for you!
1. Love Scent Pheromone Oils ($9.95)
One of the newest additions to the Love Scent catalog, the Love Scent Pheromone Oils are the perfect social lubricant. Each bottle contains AndrosteNOL, the well-known "icebreaker pheromone," which works to elevate the mood, reduce anxiety and stress, and make everyone exposed to it feel more sociable and at ease. If you enjoy spending time with your friends but have a hard time winding down and letting loose, AndrosteNOL can help you relax and make the most of your night.
The Love Scent Pheromone Oils are also a portable and convenient pheromone option. They come in a small 3.7 ml eyedropper bottle that is easily tucked into a pocket, purse, or clutch. Just quickly unscrew the cap, spread a little on your wrist or throat, pop the cap back on, and tuck the bottle away again. Your pheromones are refreshed in just a few seconds!
We currently have one fragrance available for our pheromone oils: a fresh, clean Egyptian musk. This fragrance is distinctive enough to be memorable but isn't so strong that it will overwhelm anyone you're talking to or dancing with.
If you need pheromones for a night out that will help you enjoy your well-deserved time off, the Love Scent Pheromone Oils are for you. A 3.7 ml bottle is yours for $9.95. Order now!
2. Master and Mistress Minis ($9.95)
If you're in the mood for a more sexually-charged night out, the Master for Men and Mistress for Women formulas could be just what you're looking for. These formulas were designed to give the wearer a good boost of mood-elevating self-effects while increasing their sexual magnetism. Wearing these pheromones will have you feeling good and looking good to everyone around you.
The Master and Mistress Minis are the portable trial-size versions of their larger counterparts. The 1 ml roll-on bottles are small enough to be tucked anywhere and make re-applying quick and easy. Just unscrew the cap, roll some of the formula onto your wrists or throat, screw the cap back on, and you're good to go.
Both Master and Mistress are already scented with alluring, striking fragrances, so you do not need to combine them with your own cover fragrance. The scents will have people coming closer to see what smells so good, thus giving them a stronger dose of the pheromones.
If you want your pheromones for a night out to be solidly on the sexual end of the pheromone spectrum, try the Master Mini or Mistress Mini today. Order one for $9.95 now!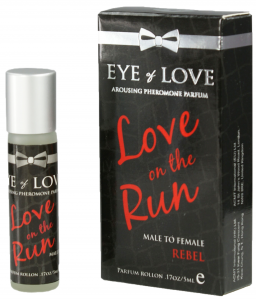 3. Rebel for Him Pheromone Cologne ($9.95)
Rebel for Him Pheromone Cologne is part of Eye of Love's "Love on the Run" series, and is one of our more social pheromones for a night out. Like our Love Scent Pheromone Oils, Rebel contains the "icebreaker pheromone" AndrosteNOL. This pheromone helps you and those around you relax, makes conversations and interactions easier, and generally puts everyone in a good mood. If you're hoping to chat up someone new or just need a little help unwinding, AndrosteNOL is always a good choice.
Rebel comes in a slim 5 ml roll-on that is easily tucked into your pocket. The roll-on applicator makes freshening your pheromones very simple–no need to fiddle with dripper caps. Just pull it out, roll some pheromones onto your wrists and throat, and slip it back into your pocket. Easy!
Rebel comes scented with a sweet, soapy musk, so you do not need to worry about combining it with your own cologne. The fragrance is smooth and understated, so it won't irritate anyone–but it might have people asking what you're wearing!
A 5 ml, highly portable bottle of Rebel for Him Pheromone Cologne is yours for $9.95. Order today!

4. Seduce for Her Pheromone Perfume ($9.95)
The women's counterpart to Rebel, Seduce for Her Pheromone Perfume is one of our most romantic pheromones for a night out. It contains Estratetraenol, a women's pheromone with particularly strong effects on straight men and gay/bisexual women. Estratetraenol improves communication and a sense of bonding between partners, and can put everyone exposed to it in a warm and cuddly mood. It's a good pheromone to use when spending a night out with an existing partner or someone you'd like to get closer to.
Seduce makes re-applying your pheromones easy. The 5 ml roll-on is slim and highly portable, and smaller than an average tube of lipstick. Just pull it out, roll the powerful pheromones on your wrists and throat, and tuck it away again.
Seduce is already scented with a floral cover fragrance containing notes of jasmine, bergamot, and Damascus rose. No need to combine it with your own perfume!
A 5 ml bottle of Seduce for Her Pheromone Perfume is $9.95. Order yours now!
5. Gel Packets (starting at $9.95)
Our gel packets are perhaps the easiest way to carry pheromones for a night out. Containing the same formulas as the bottled versions of some of our most popular products, each gel packet is good for 1-2 uses. The sugar packet-sized pack can be slipped into a pocket, wallet, purse or clutch, pocket mirror, and many other places.
Your gel packet options include:
Alter Ego for Men or Women: this popular formula contains a mix of social and sexual pheromones to boost your confidence and enhance your social magnetism. Scented options for men and women!
Chikara Pheromone Cologne: our most popular scented pheromone for men, Chikara contains seven different pheromones and a sandalwood-inspired cover fragrance that will make you one of the most intriguing guys at the club!
Edge Sandalwood Cologne: a more sexual formula that will boost your confidence and sex appeal, already scented with a sandalwood cologne!
Scent of Eros Unscented: perfect for people who aren't a fan of fragrances, this dependable social formula elevates the mood and reduces stress to help you enjoy your night out!
NOTE: Some of these gel packets have been discontinued.
Whether you already love the bottled versions of these formulas and want some gel packets as an easy way to take them with you on the go, or are only interested in something that you can take with you without a hassle, there's no doubt that the gel packets make application very easy. Tear open the packet, squeeze out the gel, apply it to your pulse points, and then discard the wrapping. And just like that, you're ready to hit the dance floor again!
Alter Ego, Chikara, and Scent of Eros gel packets start at $9.95 for 7 packets; Edge starts at $9.95 for 10 packets. Add these to your pheromone collection today!
6. Mojo Pro for Him and Her ($12.95)
The Mojo Pro pheromone sprays are highly portable 3 ml atomizers that can be taken just about anywhere. Containing a mix of social and sexual pheromones for a well-rounded range of effects, they're also one of our top pheromones for a night out. You'll enjoy increased attention, both friendly and flirty, from those around you, and will also feel your confidence and mood improving as the night goes on.
The slim 3 ml Mojo atomizers make taking your pheromones with you and reapplying them in a pinch as easy as could be. Just pop off the cap, give yourself 1 or 2 sprays to the wrists and throat, and pop the cap back on. And you're done!
The Mojo line offers a scented cologne for men and a scented perfume for women. You do not need to combine them with your own cologne or perfume, but some users have reported that they do mix well with additional fragrances, so feel free to experiment there!
A 3 ml Mojo Pro for Men or Mojo Pro for Women is yours for $12.95. Order one today!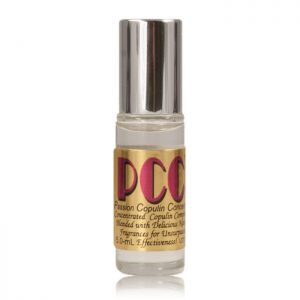 7. Passion Copulin Concentrate ($29.95)
Of our top pheromones for a night out, Passion Copulin Concentrate (PCC) is the most directly sexual. It contains copulins, female sex pheromones produced in the reproductive tract, and a fresh cover fragrance. Copulins have a strong impact on men's emotions and sex drive and are many female pheromone users' preferred method of sexually attracting men. If you're hoping to boost your sex appeal on your night out, PCC could be just what you need.
PCC comes in a conveniently slim roll-on bottle that can be easily taken with you from club to club. A quick roll of the scented formula on your wrists and throat and you're ready to get back to enjoying your time off!
PCC comes pre-scented with a fresh, natural cover fragrance that smells of cucumber and melons. It does not need to be worn with your own perfume, but it does pair well with other natural fragrances if you want to blend it with your own scents.
A 5 ml bottle of Passion Copulin Concentrate is yours for $29.95. Try it today!
UPDATE: We no longer carry Passion Copulin Concentrate. Try our Love Scent Copulin Concentrate or Arome de Femme instead!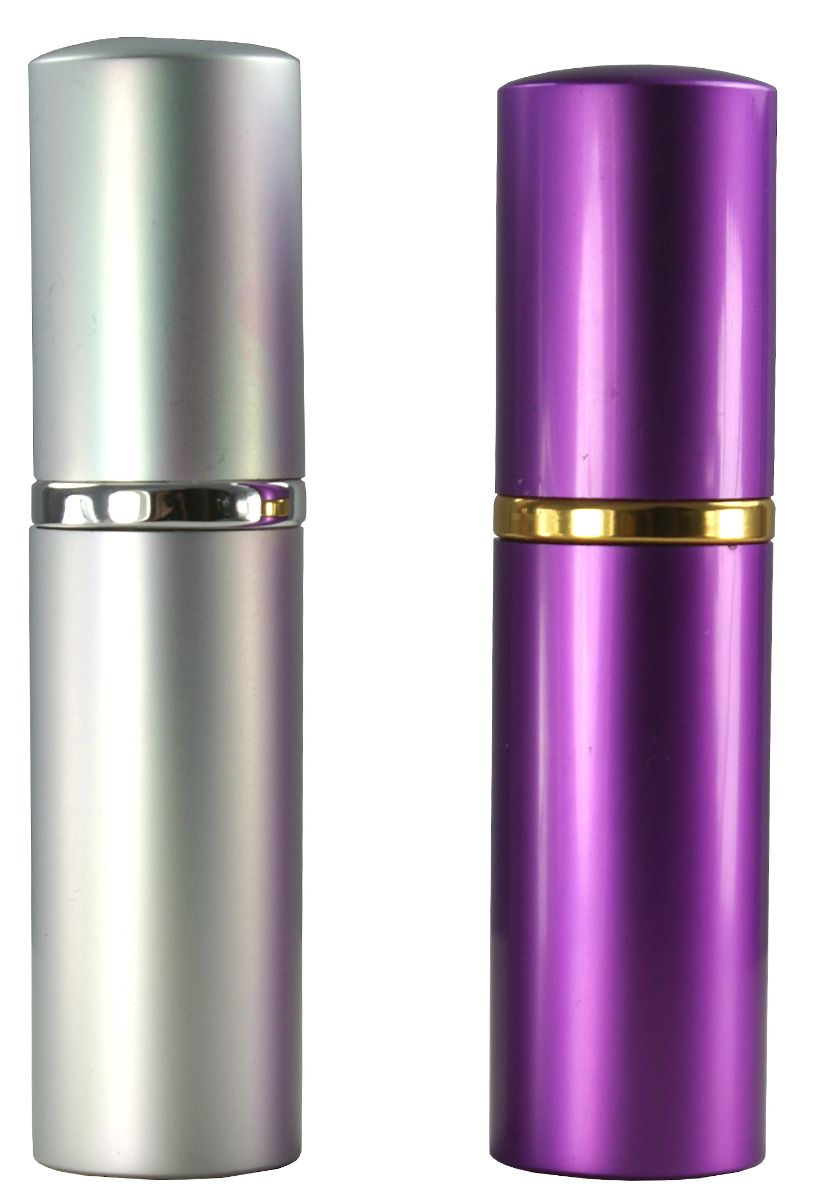 We know that many of you spend time mastering a perfect pheromone mix that is tailored exactly to your body chemistry and fragrance preferences. So what do you do if you want to take your own custom pheromone blend on your night out, but don't want to take the full bottle with you? We have a solution there too: pocket atomizers and roll-ons!
You can put a smaller amount of your DIY pheromone mix in an atomizer (which work well for thinner, alcohol- or water-based mixes) or roll-on (which work well for thicker, oil-based mixes). That way you can take just what you need with you on your night out, while leaving the rest of the batch safe at home. Both atomizers and roll-ons make application quick and easy for a hassle-free freshening of your pheromone mix.
A 10 ml pocket atomizer (glass bottle encased in a protective metal covering) is yours for $9.95; choose from blue or purple. A 5 ml roll-on bottle is $1.50. Order your chosen container now!
There you have it, Love Scent fans! Some of our best pheromones for a night out, whether you want to just blow off steam with friends or want to attract the attention of someone new!
What are your go-to pheromones for a night out? Do you use one of the above products, a different product, or your own customized mix? Tell us about it in the comments! You can also contact us directly with questions, comments, or concerns. Also be sure to subscribe to our newsletter to get free samples and to be the first to hear about blog posts, vlogs, exclusive promotions, new products, and more!
These statements have not been evaluated by the Food and Drug Administration. These products are not intended to diagnose, treat, cure, or prevent any disease.