Product Spotlight: Passion Copulin Concentrate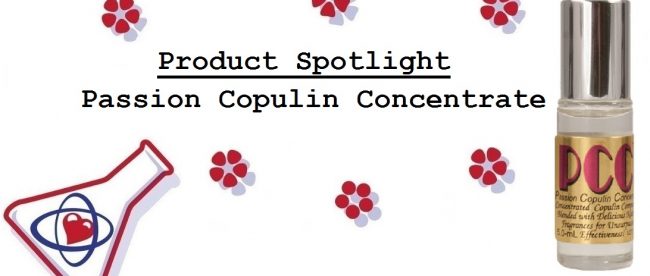 Greetings, Love Scent fans!
First, a reminder for you to take advantage of our back-to-school promotion! We're celebrating new students, returning students, and the families of students by offering 25% off your order! Just enter the code BACK2SCHOOL at checkout.
Now, on to today's topic!
This week, we're going to learn more about a product that is growing in popularity: Passion Copulin Concentrate!
UPDATE: We no longer carry Passion Copulin Concentrate. Try our Love Scent Copulin Concentrate or Arome de Femme instead!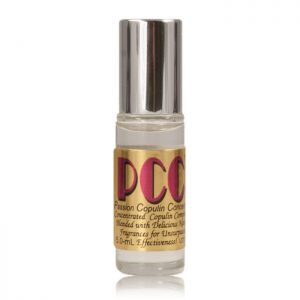 Passion Copulin Concentrate is an oil-based women's pheromone perfume. It comes in a 5 ml roll-on bottle that can be taken with you anywhere: just tuck it into your pocket or purse and you're ready to go. Now let's take a look at why you should try it!
COPULIN POWER
The key ingredient in Passion Copulin Concentrate is right in the name: copulins. Copulins, which are acidic secretions naturally found in the female reproductive tract, are a common ingredient in women's pheromone perfumes. We've known since the 1990s that copulins have an impact on men's testosterone levels, which in turn affects their sex drive and confidence–all good things when a woman is trying to attract men's sexual and romantic attention.
Because copulins affect both a man's natural sex drive and his sense of self-confidence, they can have an effect on a wide range of men. Men who are naturally confident can have their attention drawn to a woman wearing copulins due to the copulins' sexually stimulating effects, while shyer and more reserved men might approach women they wouldn't normally feel ready to talk to after the copulins increase their confidence. Copulins can also help rekindle relationships that are in a rut and restore youthful passion to long-term partnerships.
Women of all ages enjoy using copulins, but they are especially popular among older women whose natural hormone changes have left their natural copulin levels lower than they used to be. Women have reported that men are more attentive and affectionate towards them when they are wearing copulins, and that copulins have helped increase their male partner's desire and sex drive and earned them attention from men who might not normally be sexually or romantically interested in them.
As you can see, copulin-based perfumes are a great asset to women of all relationship statuses, with the strongest benefits being for women who are interested in attracting men. If you're a woman looking to spice up your sex life, Passion Copulin Concentrate could be just what you need!
FEMININE FRAGRANCE
Because copulins are one of the smelliest pheromones out there, pheromone products that use them tend to have a cover fragrance added. Passion Copulin Concentrate is one of these scented products. It contains a fruity and feminine cover fragrance that is distinctive enough to cover up the natural smell of the pheromones, but light enough to not be overwhelming. It is also more natural-smelling than a lot of perfumes, so it's popular with people who aren't fond of the synthetic scents of many modern fragrances.
Passion Copulin Concentrate's cover fragrance smells like cucumbers and melons. Some people also detect hints of fresh berries, peaches, and a general sugary sweetness. It is certainly popular among those who enjoy fruity fragrances. (If you prefer floral perfumes, you may enjoy another one of our copulin perfumes, Arome de Femme.) Some people may find that the scent is too light on its own, in which case you can combine it with a compatible perfume that blends well with fruity base notes.
If your perfume tastes run towards the fruity and natural-smelling, Passion Copulin Concentrate is an ideal choice for you!
CONVENIENT AND VERSATILE
Passion Copulin Concentrate's scented formula comes in a 5 ml roll-top glass bottle. This bottle is highly portable and can fit easily in a pocket, handbag, makeup bag, or even a large wallet. The roller ball also makes application easy: rather than having to fiddle with an eyedropper, or risk losing some formula due to a mis-aimed spray from an atomizer, you can place the roller ball directly on your skin and apply the exact amount you want to your wrist, throat, or behind the ear. And, because it is already scented, you don't need to worry about having perfume on hand to apply over the pheromones!
The convenient application and portable size of Passion Copulin Concentrate makes refreshing your pheromones quick and easy. If you've been out at the club for a few hours or are getting to the end of your long date and want to re-apply, just pull out the bottle, quickly roll some copulin goodness onto your skin, and tuck the bottle away again. And you're ready to go back to enjoying your evening!
If you like to mix pheromones together, Passion Coupulin Concentrate is also a good choice. It can double as a cover fragrance for other unscented pheromones. (Remember: atomizers and roll-ons make it easy to carry batches of pheromone mixes so you can take them with you wherever you need them!)
Whether you plan to use Passion Copulin Concentrate on its own or in combination with other pheromones, you'll find that it's a great product to work with. It's definitely a great addition to any woman's pheromone collection!
There you have it, Love Scent fans! Everything you need to know about Passion Copulin Concentrate. Try it today to see why it's becoming more and more popular! A 5 ml bottle is yours for $29.95!
UPDATE: We no longer carry Passion Copulin Concentrate. Try our Love Scent Copulin Concentrate or Arome de Femme instead!
Have you used Passion Copulin Concentrate or other copulin-based perfumes? What experiences have you had with them? Do you like to wear them alone, or with other pheromones? Share your stories in the comments! And as always, you can contact us directly with questions, comments, or concerns. Also be sure to subscribe to our newsletter to get free samples and to be the first to hear about blog posts, vlogs, exclusive promotions, new products, and more!
These statements have not been evaluated by the Food and Drug Administration. These products are not intended to diagnose, treat, cure, or prevent any disease.