New Product: Love Scent Pheromone Oils!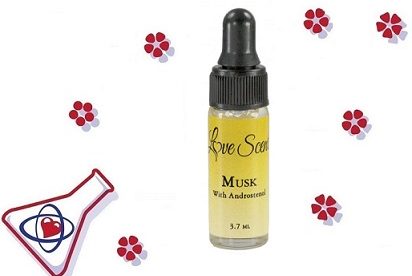 Happy Friday, Love Scent fans!
Two things!
First: it's time to celebrate all your hard work this year with some Labor Day savings! Use the code LABORWKND at checkout to get 30% off your order! This offer is good on everything in the Love Scent catalog, from your favorite pheromones to cover fragrances to atomizers. Stock up on all your pheromone needs now!
Second: while you're doing some Labor Day shopping, be sure to check out our new product: Love Scent Pheromone Oils!
Love Scent Pheromone Oils are scented, oil-based, and infused with the ultra-versatile social pheromone AndrosteNOL. This pheromone, which works on the emotional centers of the brain, is well-known for its many benefits: it can elevate your mood, improve relationships (platonic and romantic alike), boost your confidence, make people more eager to talk to you and get to know you, and reduce tension of all kinds. It's a great choice for people who value pheromones' positive self-effects (who couldn't do with a mood boost?) and for anyone who wants to have an easier time talking to others (whether it's your new colleague or a cute girl at the bar).
Now, let's answer some questions you may have about this new product!
FIRST THINGS FIRST: THE LOGISTICS
Love Scent Pheromone Oils come in a 3.7 ml glass eyedropper bottle. The small size makes it easy to take this product with you wherever you'd like to go, and the eyedropper lets you easily apply the oil to your skin or add it to your own pheromone creations.
Each 3.7 ml bottle contains 0.8 mg of AndrosteNOL. (For comparison, a 10 ml bottle of New Pheromone Additive for Men contains 1 mg of AndrosteNOL.) The high concentration of pheromones in Love Scent Pheromone Oils means that the small bottle will last you a long time: one drop spread between the pulse points is probably all anyone is going to need!
Currently, we offer Love Scent Pheromone Oils in one unisex fragrance: a sweet, fresh Egyptian musk. It's an understated yet memorable fragrance that will draw people's attention to you without irritating them. Be prepared to answer questions about what you're wearing and why you smell so good!
If musk isn't your thing, or if you'd like to have a few fragrances to choose from, don't worry! We'll be offering these products in more fragrance choices soon. (If you'd like to offer suggestions for fragrances–such as sandalwood, florals, citrus, or something else–feel free to contact us!)
Each 3.7 ml bottle of Love Scent Pheromone Oils is available for $9.95. They are also included in the Beginner Special for Men and Beginner Special for Women.
WHO WOULD ENJOY LOVE SCENT PHEROMONE OILS?
We're confident that most, if not all, of our customers will love this new product, but there are definitely some people who will be especially exited about them!
First and foremost, if you were a fan of the Super Primal Pheromone Oils that we are no longer able to stock, you should definitely check out Love Scent Pheromone Oils! They contain the same pheromone–AndrosteNOL–and were developed with the same purpose in mind: to provide pheromone fans with a versatile, user-friendly, cost-effective product that can be used on its own or in combination with other pheromones. And, because we manufacture Love Scent Pheromone Oils on site at our own facility, we'll have an easier time keeping them in stock! So, if you've been missing the Super Primal oils and want a dependable supply of something similar, we highly encourage you to give our own Love Scent Pheromone Oils a try!
Also, if you or someone you know are new to the world of pheromones, Love Scent Pheromone Oils are an excellent starter product. AndrosteNOL has minimal risk of unpleasant side effects (unlike stronger sex pheromones such as AndrosteNONE, which can agitate people if you use too much) and has such a wide range of benefits that it can be used in virtually any situation. These products can be worn to work, around family and friends, to business meetings, on a date, during a night in with your partner, and more!
Of course, these oils aren't just for beginners. Seasoned pheromone users will find plenty to like here, too! If you enjoy the compliments and attention you get when wearing something like Rebel or Primal Women, you'll certainly love the effects of Love Scent Pheromone Oils too!
Whoever you are, and whatever your experiences are with pheromones, Love Scent Pheromone Oils have plenty to offer to. Give them a try!
HOW CAN YOU USE LOVE SCENT PHEROMONE OILS?
Let's say you do decide to try a bottle of Love Scent Pheromone Oils. What can you do with it, and how should you use it? Let's take a look!
Use By Itself–the effects of AndrosteNOL are pleasant and versatile enough that many people like to use it by itself. Just put a drop on your wrists, gently rub your wrists together, and then dab your wrists on your throat. Now you're ready to go!
Use With Other Pheromones–if you love the sexual effects of pheromones like Alpha-7 or Primal Instinct for Him, but find that they're a bit too strong on their own, you can add a drop of Love Scent Pheromone Oils to smooth things out. Just apply the stronger formula to your wrists and/or throat, and apply a drop of Love Scent Pheromone Oils over it.
In DIY Pheromone Mixes–if you're one of the many people who like to make their own custom pheromone blends and keep them at the ready in an atomizer or roll-on, Love Scent Pheromone Oils make things easy. The eyedropper bottle makes it a breeze to add a dose of scented AndrosteNOL to your desired applicator–and most pheromone blends can benefit from a bit of this important social pheromone! (Also: be on the lookout for a tutorial on DIY pheromone mixes, coming soon to our YouTube channel!)
Like all our products, Love Scent Pheromone Oils are for external use only. Beyond that, the only limit on its use is your own imagination!
There you have it, Love Scent fans! Everything you need to know about the newest addition to the Love Scent catalog. We hope you'll give Love Scent Pheromone Oils a try! Order a bottle today for $9.95!
Do you think you'll be giving this new product a try? Do you have suggestions for fragrances that you'd like to see? Let us know in the comments! You can also contact us directly with any fragrance recommendations, questions, comments, or concerns. And be sure to subscribe to our newsletter to be the first to hear about blog posts, vlogs, exclusive promotions, new products, and more!
These statements have not been evaluated by the Food and Drug Administration. These products are not intended to diagnose, treat, cure, or prevent any disease.