3 Father's Day Gifts From Love Scent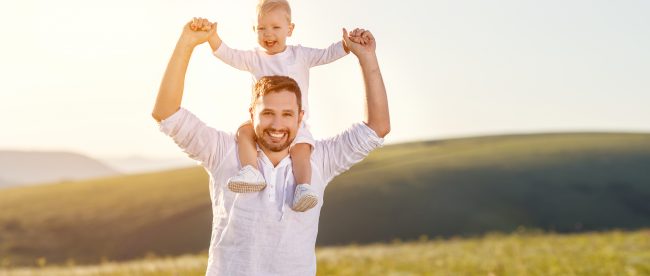 Happy Friday, Love Scent fans!
June 17 is Father's Day in the US! It's a day to celebrate all the fathers and father figures in our lives–dads, granddads, uncles, and any other men who have helped us become who we are. At Love Scent, we love and appreciate all the fathers in our big pheromone family!
And if you're looking for a unique Father's Day gifts to give this year, we have some suggestions for you! Have a look!
1. Rebel for Him ($9.95)
Rebel for Him is a versatile, useful pheromone formula that just about any father can benefit from using. It contains the social pheromone AndrosteNOL, which is known among pheromone fans as "the icebreaker pheromone." It can act as a social lubricant in all kinds of interactions, from nights out with friends to meetings with colleagues, and also has a lot of mood-elevating self-effects that can help Dad de-stress and enjoy life more.
Rebel for Him contains a sweet musk cover fragrance, so your father won't have to combine it with a cologne. He'll just need to roll a little on his pulse points. The 5 ml bottle is highly portable, so he can just tuck it in his pocket and take it wherever he needs it.
At $9.95 a bottle, Rebel for Him is one of our most affordable Father's Day gifts. Order one for your dad today!
2. Liquid Trust ($29.95)
Liquid Trust is the most popular unisex product in the Love Scent catalog, and for good reason: its key social hormone has perhaps the widest range of possible effects of any product we offer. In addition to soothing tension and anxiety, increasing confidence and social magnetism, and improving emotional connections between family members and friends, it also increases trust between individuals. If your father works in sales or is looking for a way to get an edge in business, or could just use something that will make his day-to-day life easier and brighter, Liquid Trust is an excellent choice for him.
The Liquid Trust formula is unscented, and (unlike most of our unscented products) does not need to be combined with a cover scent. It's also safe to use on clothing. Have your father spray it on his wrists and around his neck.
A 7.5 ml bottle of Liquid Trust is $29.95. If you're looking for Father's Day gifts that your dad can use every day, order him a bottle now!
3. Super Primal for Him (temporarily $39.95)
Super Primal for Him is a pheromone concentrate that is perfect for any dad who would want to add some pheromones to his own cologne. Like Rebel, Super Primal contains the icebreaking social pheromone AndrosteNOL. This versatile pheromone can benefit your dad's work life, social life, and family life, and can help him enjoy better moods and more energy.
Super Primal for Him is an unscented concentrate that can be worn on its own or added to a cologne. When worn alone, it can be applied a few drops at a time to the pulse points. When combined with a cologne, it can be added in larger amounts to your father's favorite fragrance to make a customized pheromone cologne.
In celebration of Father's Day, a 2 oz bottle of Super Primal for Him is $39.95 (down $20 from the current sale price of $59.95) and will last your father several months. This is one of our best Father's Day gifts, so order a bottle for every father in your life this year!
There you have it, Love Scent fans! We hope you give all the fathers in your life the gift of pheromones this year!
Have you ever gotten your father a pheromone gift for Father's Day? If so, what did you get him, and how did he like it? If you're a father, what sort of pheromone would you most like to receive? Let us know in the comments! Also feel free to contact us directly with any questions, comments, or concerns. And be sure to subscribe to our newsletter to be the first to hear about blog posts, exclusive promotions (be on the lookout for one this week), new products, and more!
These statements have not been evaluated by the Food and Drug Administration. These products are not intended to diagnose, treat, cure, or prevent any disease.