5 Pheromones To Improve Your Mood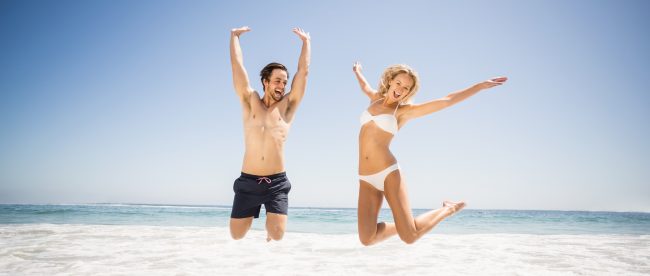 Happy Friday, Love Scent fans!
This week, we're going to take a look at pheromones that can improve your mood. These are the pheromones that are good at soothing away feelings of stress and anxiety, lifting your spirits, and helping you relax. They can give you a boost when life is getting hectic, or help you enjoy an already laidback day even more. You can use them for their self-effects as well as their effects on other people. If you want your pheromones to be versatile and have dependably positive effects, these will certainly interest you!
None of the pheromones on this list are aggressive or authoritative, so they pose little to no risk of overdosing. They're also suitable for use in a wide range of environments: at home, in the workplace, on dates, on nights out with friends, in the bedroom, and anywhere else. Their mood-elevating effects can help you improve your relationships with just about anyone in your life. We definitely recommend them as additions to anyone's pheromone collection!
All right, let's take a look!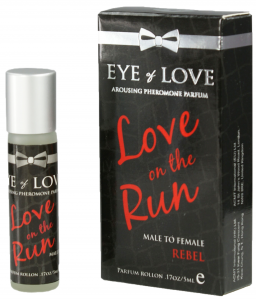 1. Rebel for Him ($9.95)
Rebel for Him is an AndrosteNOL-based pheromone cologne. AndrosteNOL is an unaggressive, mood-elevating, trust-building pheromone. Its usefulness has earned it a place in many pheromone colognes and perfumes, as well as the nickname "the icebreaker pheromone." It's helpful when you're trying to get to know someone better, when you're trying to make yourself approachable to those around you, and when you need to give your own mood a nice boost.
Rebel for Him already contains a sweet musk fragrance, so you can wear it without adding a cologne. Roll a bit of this potent formula on your wrists and throat. The small, convenient roll-on can be taken with you almost anywhere.
A 5 ml roll-on of Rebel for Him is $9.95. Give this product a try today!

2. Seduce for Her ($9.95)
Seduce for Her is a light pheromone perfume that contains Estratetraenol. This pheromone, in addition to being very romantic and cuddly, also has strong positive effects on your mood. It can alleviate anxiety and tension, improve communication, and enhance bonds between individuals. Seduce has strong benefits for couples in particular, but can be used in many different situations for both its self-effects and its effects on others.
Seduce for Her already contains a floral cover fragrance, so there is no need to combine it with your own perfume. The highly portable roll-on makes it easy to apply the perfume to your pulse points wherever you are.
A 5 ml roll-on of Seduce is yours for $9.95. Try it today!
UPDATE: We no longer carry Seduce for Her. Try NPA for Women with your favorite cover fragrance instead!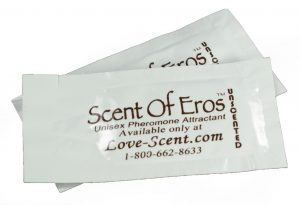 3. Scent of Eros Unscented Gel Packets (starting at $9.95)
The Scent of Eros formula is well-known among pheromone users for its mood-elevating properties. It contains a mix of the solid social pheromone AndrosteNOL and the mild sex pheromone AndrosteRONE. The AndrosteNOL improves your mood and social magnetism, while the AndrosteRONE boosts your confidence and attitude. It's a great combination for any area of your life. This formula is suitable for use by men and women.
The Scent of Eros Unscented gel packets do not have a fragrance added, and are one of the few pheromones that can be worn without a cover fragrance. That said, you can combine them with your favorite perfume or cologne if you want. Simply apply the gel to your pulse points (and a dab under the nose to maximize self-effects), and spray your chosen scent over it.
You can get the ultra-portable Scent of Eros Unscented Gel Packets starting at $9.95 for 7 packets. Order now!
UPDATE: We no longer carry the Scent of Eros products. Try the Love Scent Pheromone Oils or Liquid Trust instead!
4. Liquid Trust ($29.95)
As we mentioned last week, Liquid Trust is back! Due to big changes in manufacturing logistics, we were out of stock on this popular product for a while–but not anymore! We now have a steady supply for Liquid Trust's many fans. And if you're looking for something that will elevate your mood and bring a long list of other benefits to the table, this simple unscented spray is what you've been looking for. It contains an important social hormone that regulates many aspects of human behavior, including positive mood and social support.
Liquid Trust is unscented, and doesn't have much of a scent of its own. It can be worn alone, with or without a cover fragrance, or in combination with other pheromone products. Spray a little on your pulse points and around the neck to see the most benefits.
A 7.5 ml bottle of Liquid Trust is $29.95. Add this powerful product to your collection today!
5. Pheromol Factor ($29.95)
Pheromol Factor is a British-engineered formula for men. Its formula improves relationships, elevates the mood, and brings people's walls down. The effects are powerful on both the wearer and those nearby. What's more, the unique fragrance was designed to work with the pheromones to enhance their natural power, giving this product an extra edge.
Pheromol Factor is scented, and does not need to be combined with a cologne. Add a few drops to the pulse points like the wrists, throat, and behind the ears.
An 11.5 ml bottle of Pheromol Factor is yours for $29.95. Order yours now!
That's all for now, Love Scent fans! If you haven't given one of the above products a try, we highly recommend that you do. We guarantee that you'll be glad you did!
Have you tried any of the above products? Which do you think is best at improving your mood? Share your stories in the comments! Also feel free to contact us directly with any questions, comments, or concerns. And be sure to subscribe to our newsletter to be the first to hear about blog posts, exclusive promotions, new products, and more!
These statements have not been evaluated by the Food and Drug Administration. These products are not intended to diagnose, treat, cure, or prevent any disease.