Product Spotlight: Decoding Your "Primal" Options (Part 1)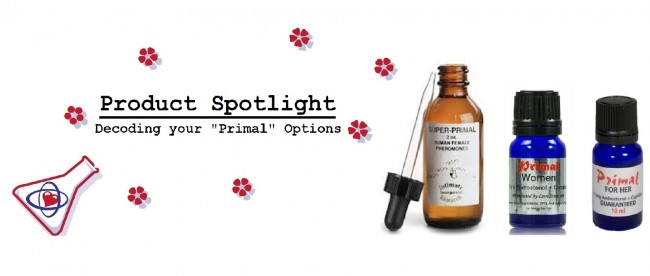 Happy weekend, Love Scent fans! We hope you're enjoying the summer sun. This post will focus on some of our pheromone products for women, but don't worry, gentlemen: we'll have a partner post for you next week.
If you've spent much time with our catalog, you've noticed a group of products with deceptively similar names: Primal Instinct (for men and women), Primal Women, Super Primal (for men and women), and Super Primal Pheromone Oils. That's a lot of Primal, and it can be hard to decode which is the right product for you. This post will help you decide which of our "Primal" products will best meet your needs.
1. Primal Instinct Unscented for Women
Primal Instinct is one of the oldest pheromone products available, and its formula has certainly stood the test of time. It contains a blend of Androstenol, an important social pheromone sometimes known as the "icebreaker" pheromone, and copulins–hormones that are secreted in the vagina during ovulation. This combination results in a powerfully sexual product that will boost your sexual confidence and get you a lot of attention.
Be careful when using Primal Instinct for Women, as it is very easy to overdo the application. We recommend starting with a single drop and then monitoring the effect of the product on yourself and those around you. And, while Primal Instinct for Women does not contain any added scent, it does have a strong natural scent of its own. For this reason, you should always combine it with your favorite perfume or other natural fragrance. Apply your single drop of Primal Instinct and spray your preferred scent over it.
Primal Instinct is a tried-and-true formula, but it may be too strong for many beginners. Give Primal Instinct Unscented for Women only if you are interested in a potent, sexual pheromone product. If this sounds too strong for you, read on for more information about our other "Primal" products.
UPDATE: We no longer carry Primal Instinct Unscented for Women. Try Primal Women instead!
2. Primal Women
Primal Women is a unique product sold only here at Love Scent. It is based on the reliable formula found in Primal Instinct Unscented for Women, and also contains a combination of copulins and Androstenol. You can think of Primal Women as the updated version of Primal Instinct for Women: all the excellent effects you're looking for, in a newer formula.
Primal Women is an excellent choice for women who want to experiment with the sexual effects of Primal Instinct for Women, but would like to spend less money to do it. Both Primal Instinct for Women and Primal Women are sold in 10 mg. bottles, but Primal Women comes at a lower price. It's a smaller financial commitment for those who want to test out the effects of such a potent product before deciding if it's right for them.
Like Primal Instinct for Women, Primal Women contains no additional scent. Apply a drop wherever you normally apply your favorite scent and spray your perfume over it.
If Primal Women also sounds a bit too strong for you, don't worry–we have some more "Primal" products for you to consider below.
Super Primal for Her contains the sex pheromone Androstenone. This product has a powerful but less concentrated formula, meaning that you are less likely to overdo it when applying. This makes Super Primal a good choice for those who want to experiment with these pheromones but are nervous about applying too much.
Super Primal for Her is another one of our unscented products. You'll want to apply a few drops (you can even start with one if you're a beginner) and cover it with your favorite scent.
At the same price as Primal Women, Super Primal for Her is an excellent value. Try it out to see if you enjoy the effects; if you do, you can consider buying one of our more potent Primal products in the future.
If you're still not sure that you've found the right "Primal" product, read on: we still have one more collection to offer you.
4. Super Primal Pheromone Oils
Super Primal Pheromone Oils work with multiple sensory areas of your brain to produce an amazing effect. You may already know that pheromones stimulate sexual and social centers of the brain, resulting in all sorts of responses from the people around you. You probably also know that scent is one of our most powerful senses we have, and that certain smells can provoke powerful reactions, from evoking fond memories to soothing anxiety. This collection of Pheromone Oils allows pheromones and pure scent to work together and produce excellent results.
We offer a wide range of these pheromone fragrances for you to choose from, each with a unique and pleasing scent designed to maximize the effects of the pheromones. Choose from Breathless, CK Version, Climation, Cool Scent, Dark Continent, Juniper Berry, Musk, Paris Hilton, and Roman.
At $10 a bottle, Super Primal Pheromone Oils are an economical and enjoyable way to introduce yourself to the world of pheromones, and are an ideal choice for beginners. If you like the effects they have on you and those around you, you can consider looking into some of the other pheromone products available here at Love Scent.
Use Super Primal Pheromone Oils on their own, or mix with one of our unscented pheromone products. The choice is yours!
UPDATE: We no longer carry the Super Primal Pheromone Oils. Try the Love Scent Pheromone Oils instead!
I hope this post has helped you understand the sometimes confusing differences between our "Primal" products for women. Choose which one sounds right for you, and order today! And gentlemen, we'll see you next week with more information on our Primal products for men.
Please leave a comment below the article if you have any questions, comments, concerns, or topics you'd like us to cover in future blog posts, and make sure to subscribe to our newsletter to get some free samples, and to be updated on new blog posts, products, and promotions.
These statements have not been evaluated by the Food and Drug Administration. These products are not intended to diagnose, treat, cure, or prevent any disease.