Pheromone How-To: Giving Pheromone Gifts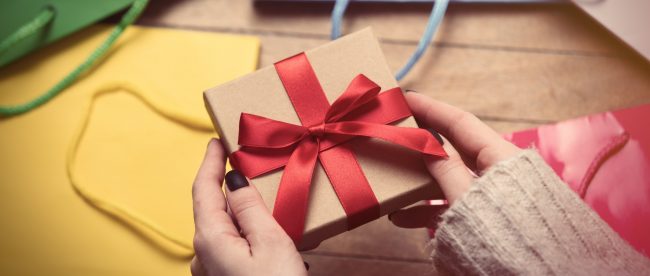 Happy Friday, Love Scent fans!
Thanksgiving is just around the corner in the US! Celebrate with us by saving 30% on your next order. Just use the code GIVINGTHANKS22 at checkout! This offer is good on everything in the store, so you'll save big on your favorite pheromones, cover scents, supplies, and more!
Now, on to today's topic: our how-to guide to giving pheromone gifts!
As you know, pheromones are versatile, useful, and a great addition to many people's lives. For this reason, they make great gifts, too! The wide variety of pheromones available means that there is a pheromone out there for just about everyone in your life.
But how do you go about choosing pheromones to give to your friends, family, and other loved ones? Let's dive right in!
STEP ONE: CONSIDER YOUR RELATIONSHIP
When giving pheromone gifts, the first thing to consider is your relationship to the person you're giving them to. Are they your close friend? Casual acquaintance? New girlfriend or boyfriend? Long-term spouse? Parent? Sibling? Your relationship with the giftee will determine what kind of pheromones make an appropriate gift with them!
For example, if you'd like to give pheromone gifts to your long-term partner, pretty much the entire pheromone spectrum is fair game. You could give them a mood-boosting social pheromone, an everyday all-purpose pheromone, or an intense sexual pheromone. All of these make great gifts overall, and are perfect for someone you've been intimate with for so long.
For more casual friends and most family members, social pheromones tend to be better choices. They are useful, suitable for just about any situation, and can be used by anyone at any time. Because they have no direct sexual effects, they're the more "neutral" choice, too.
A good general rule to follow: if you don't know the intimate details of a person's romantic life, steer clear of sexual pheromones when picking out a gift for them! But social pheromones are fair game no matter what your relationship is to someone.
One final thing to consider: make sure you know the person well enough to know if they're interested in trying pheromones! You always want any gift you give to be thoughtful.
STEP TWO: CONSIDER THE OCCASION
The next step when giving pheromone gifts is to consider the gift-giving occasion. Is it a general gift-giving holiday such as Christmas? A romantic occasion like Valentine's Day or an anniversary? A birthday? There are so many pheromones to choose from that you can usually find something that fits the spirit of the occasion!
For example, if you need a romantic and sexy gift for an anniversary or other romantic holiday, a sexual or romantic pheromone is always a good choice. Primal Women, Mistress, Edge, SuperMone, and Alpha-7 are all good choices for gift-giving occasions that celebrate your intimate bond with someone.
For a more general gift-giving holiday, more versatile and "everyday" pheromones are often an excellent option. Chikara, Liquid Trust, and the Love Scent Pheromone Oils are popular all-purpose products that your giftee could use in their romantic, personal, and professional lives. They make great birthday presents, Christmas presents, "congratulations on your promotion" presents–the list goes on!
Overall, the more intimate the occasion and the more intimate your relationship with the giftee, the better sexual and romantic pheromones are as gifts. The more neutral and general the occasion, the better all-purpose and versatile pheromones are!
STEP THREE: CONSIDER THE DETAILS
The final step when giving pheromone gifts is to consider the finer details of the product (or products) you're giving! With a wide range of products to choose from and many factors involved in each, there are plenty of details for you to consider before picking out your gift.
For example, if you're giving a gift to someone who is (a) interested in pheromones but (b) doesn't really know where to start, a sampler set would really help them along! Our Pheromone Sampler for Men, Pheromone Sampler for Women, Beginner Special for Men, and Beginner Special for Women are great choices here.
Another detail to consider: fragrance! If you're giving pheromones to a friend who you know is very particular about their fragrances, make sure to get them an unscented product. This will allow them to customize their pheromones with the fragrance or fragrances of their choice!
Think about your giftee's personality, too. If you're giving a gift to someone who likes things straightforward and hassle-free, make sure to get them one of our many user-friendly pheromones that they can apply without worrying much about the dosage or the occasion.
Once you've thought a bit about these finer details, we're sure you can find something for just about everyone on your list!
There you have it, Love Scent fans! Our how-to guide to giving pheromone gifts. Whether you're getting an early start on Christmas shopping, looking forward to an anniversary, getting a birthday gift for a friend, or anything else, we hope you feel confident enough to make the perfect choice now!
Have you ever given pheromone gifts? What was the occasion and which pheromone did you choose? Tell us about it in the comments! You can also contact us directly to share your comments and questions. And be sure to subscribe to our newsletter to get free samples and to hear about coupons, new products, and more!
These statements have not been evaluated by the Food and Drug Administration. These products are not intended to diagnose, treat, cure, or prevent any disease.