3 Cozy Pheromones For Fall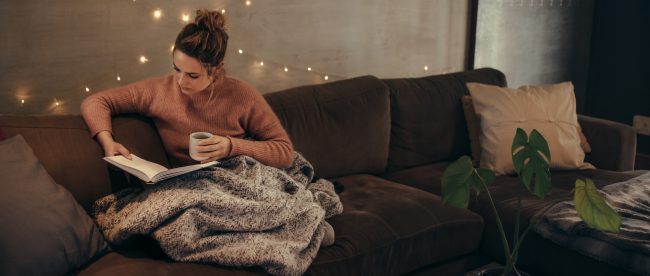 Happy Friday, Love Scent fans!
As we said last week, we're celebrating the start of fall here at Love Scent! Save 25% on your next order by using the code FALLINLUV22 at checkout. Remember, this offer is good on everything in the store: pheromones, supplies, cover scents, essential oils, and more!
Now, on to today's topic: 3 relaxing and cozy pheromones for fall!
As the days get shorter and the weather gets cooler, many people find themselves wanting to stay inside with a warm blanket, hot drink, and their favorite book or bingeable show. If that's you, we've got some cozy pheromone recommendations for you!
But what makes a pheromone "cozy?" While people tend to think of pheromones as inherently stimulating, many pheromones actually have a strong relaxing effect. These pheromones can help you unwind, de-stress, and enjoy your free time. They're the perfect accompaniment to an rainy afternoon spent kicking back on your sofa.
So let's take a look at some cozy pheromones for the fall season!
The Love Scent Pheromone Oils are one of our most popular products. They're also some of the coziest pheromones around! They contain the powerful social pheromone AndrosteNOL, which is well-known for its ability to relieve stress, soothe the mind, and relieve tension. These are a great choice for anyone who wants to spend their day getting cozy on their couch–or in their bed!
The Love Scent Pheromone Oils come in ten different fragrance options. Each fragrance option contains the same pheromones, so choose whatever suits your tastes! Then apply 1-2 drops to your pulse points, plus a dab on your upper lip, whenever you're ready to relax and enjoy some down time!
A 3.7 ml eyedropper bottle of Love Scent Pheromone Oils is $9.95. If you've been looking for cozy pheromones, order your bottle today!
Liquid Trust is another one of our most popular products, and for good reason. This warm and fuzzy pheromone helps the wearer feel less stressed and more connected with the people around them. If you want to just spend the day relaxing at home with your loved ones (or just yourself), Liquid Trust can help you enjoy your day even more.
Liquid Trust has no pheromone smell to speak of, so it's perfect for anyone who is interested in cozy pheromones but is sensitive to fragrances. You don't need any cover scent with it at all! Just spray around the neck before settling into your couch with your favorite book.
A 7.5 ml spray bottle of Liquid Trust is yours for $29.95. Order today!
Super Primal for Him is a relaxing, cozy pheromone that, despite its name, is actually unisex! This pheromone contains AndrosteNOL, the same pheromone found in the Love Scent Pheromone Oils. AndrosteNOL helps relieve stress and promotes relaxation, and can make you feel more fond of everyone around you. If you'd like to settle in and enjoy yourself for a warm and cozy afternoon, Super Primal for Him can help!
Super Primal for Him contains no cover scent, and unlike many unscented pheromones, it does not have a strong pheromone odor. Many people find that they can wear it without any added fragrance. Just apply a few drops to your pulse points and around your neck before a cozy day with your loved ones!
A large 2 oz bottle of Super Primal for Him is yours for $49.95. Order yours today!
There you have it, Love Scent fans! Our best cozy pheromones for fall. If you'd like to add an extra layer of relaxation to your next afternoon spent kicking back on the sofa, we hope you give one of these a try!
What are your favorite cozy pheromones? Are they on this list, or do you have something else to recommend? Tell us about it in the comments! You can also contact us directly to share your comments, questions, and concerns. And be sure to subscribe to our newsletter to get free samples and to hear about coupons, new products, and more!
These statements have not been evaluated by the Food and Drug Administration. These products are not intended to diagnose, treat, cure, or prevent any disease.