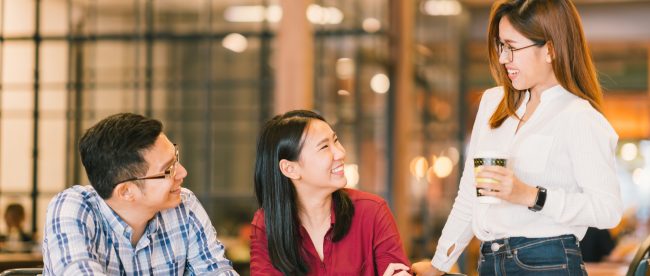 Happy Friday, Love Scent fans!
Today, we're going to take a look at some of the most useful pheromones you can have in your collection: our best icebreaker pheromones! These social pheromones help you make an excellent first impression, whether you're starting a new job, meeting new friends, meeting your partner's family, and more! They're also perfect for continuing to make a good impression after you've broken the ice.
Icebreaker pheromones work by putting people in a relaxed and easygoing state of mind. They can help relieve stress and anxiety and elevate the mood. When you wear them, the people around you will feel at ease and upbeat–and will associate these feelings with you! Meanwhile, you'll be feeling great yourself, which makes you more likely to interact well with anyone around you.
Without further ado, let's take a look at our best icebreaker pheromones!
The Love Scent Pheromone Oils are our top-selling product, and it's easy to tell why! These all-purpose oils contain the "icebreaker pheromone" itself, AndrosteNOL. They're fantastic mood-boosters and stress-relievers, and can act as a social lubricant in just about any situation. They're perfect for making a good first impression–and then making sure that good impression lasts and lasts!
Our Love Scent Pheromone Oils come in ten different fragrance options, so you're sure to find something that meets your preferences. Some of the most popular scents are fresh Musk, sweet Honeysuckle, and classic Sandalwood. Choose whichever you'd like, and apply 1-2 drops to your pulse points whenever you need to make a good impression!
A 3.7 ml eyedropper bottle of any of the Love Scent Pheromone Oils fragrance options is yours for $9.95. Order today!
Our second most-popular product, Liquid Trust is also one of the best icebreaker pheromones around. It contains a social pheromone that promotes attachment between people and helps solidify social bonds. It can help you appear trustworthy and dependable to those around you. For this reason, it is especially popular among those who work in sales and client relations. It's also great for just wearing around friends, family, and new people!
Another thing that makes Liquid Trust an ideal icebreaker pheromone: it's totally unscented! It doesn't even have a detectable pheromone odor like most unscented products. So you can wear it to scent-free workplaces and meetings, too! Just spray it around the neck and on the wrists before making your big impression.
A 7.5 ml spray bottle of Liquid Trust is yours for $24.95. Add this one you your collection now!
Super Primal for Him contains AndrosteNOL, the same "icebreaker pheromone" found in the Love Scent Pheromone Oils. When you wear it, people around you will feel relaxed, comfortable, and open, and will be happier to spend time with you. You might also feel more at ease and socially outgoing yourself! It's a great choice for your professional and personal life, and any occasion where a making a good impression is key!
Super Primal for Him is unscented, meaning it contains no fragrance. Most people can't detect much of a smell from it because AndrosteNOL is not a very smelly pheromone. Just use your best judgment, and apply some cover fragrance if anyone around you seems put off by the smell. Apply 2-3 drops to the pulse points and, if using, spray your scent over it.
A large 2 oz eyedropper bottle of Super Primal for Him is $49.95. Order yours today!
There you have it, Love Scent fans! Our best icebreaker pheromones. If you need to make a good first impression at work, with friends, with family, or anywhere else, we encourage you to give one of these a try. We guarantee that you won't regret it!
What are your favorite icebreaker pheromones? Are they on this list, or do you have something else to recommend? Share your thoughts in the comments! You can also contact us directly to share your comments, questions, and concerns. And be sure to subscribe to our newsletter to get free samples and to hear about coupons, new products, and more!
These statements have not been evaluated by the Food and Drug Administration. These products are not intended to diagnose, treat, cure, or prevent any disease.