Get Ready For Summer With These Pheromones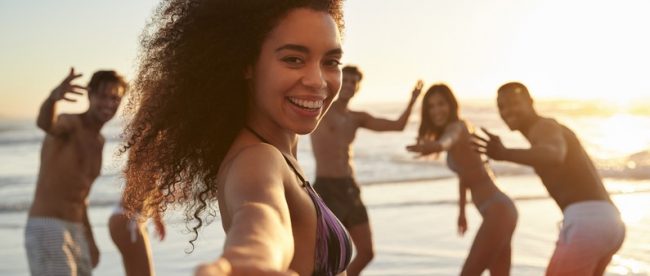 Happy Friday, Love Scent fans!
First of all, it's Memorial Day weekend here in the US, and we're already celebrating! You can save 25% on your next order with the code LOVE4MEMORIAL. This offer is good on everything in the store, so stock up on all your Love Scent favorites while the savings last!
And, because Memorial Day weekend is the unofficial start of summer, today we're going to be looking at some great summertime pheromones! These pheromones will put you in a relaxed, upbeat state of mind to help you enjoy the long sunny days to come.
Let's dive right in!
Our Love Scent Pheromone Oils contain AndrosteNOL, the unisex social pheromone known as "the icebreaker pheromone." This pheromone elevates the mood, reduces stress, and stimulates the mind. It also acts as a social lubricant, making social situations easier and more enjoyable–perfect for days spent out and about with friends! The Love Scent Pheromone Oils are also oil-based, which makes them harder to sweat off during warm summer days.
The Love Scent Pheromone Oils come in 10 different fragrance options. Choose from bright summery fragrances like Floral Garden, Citrus, and Honeysuckle; classic fragrances like Jasmine, Sandalwood, and Musk; unique favorites like Smoky Amber, Amber Oudh, and Woodland; or the luscious Sweet Cream. Each scent option contains the same pheromones, so choose what you like! Then simply apply 1-2 drops the pulse points.
Each of the Love Scent Pheromone Oils fragrance options is available for $9.95. Order today!
Chikara Pheromone Cologne for Men is a mood-elevating, confidence-boosting men's pheromone. Its pheromone blend contains both sexual and social pheromones to give your magnetism a boost while keeping things relaxed and stress-free. The Chikara carrier contains both oil and alcohol, so it has staying power on the skin and the convenience of a spray. This is the perfect pheromone to help you say "hello" to summer!
Because Chikara Pheromone Cologne already contains its distinctive, attention-getting cover fragrance, you do not need to combine it with your own cologne. Just apply 1-2 sprays to the pulse points like the wrists and throat, and get ready to enjoy your day!
Chikara Pheromone Cologne for Men is available in two sizes: the 1 ml Chikara Mini ($9.95) or the 15 ml Chikara Pheromone Cologne spray bottle ($49.95). Order today!
Liquid Trust is an unscented pheromone spray that contains a mood-elevating, stress-relieving, anxiety-reducing social pheromone. This pheromone plays a central role in all kinds of human behavior, including bonding and relaxation, and is arguably the most versatile social pheromone around. If you need something that will help put you in a carefree mood all day long, Liquid Trust is for you!
Liquid Trust is unscented, and has very little natural scent. This means you can wear it with or without a cover fragrance. You can wear it on its own, or pair it with other pheromones to give them a stress-reducing element! Apply a few sprays to the pulse points and around the neck and you're ready to enjoy your summer days.
A 7.5 ml spray bottle of Liquid Trust is $24.95. Order this versatile pheromone today!
There you have it, Love Scent fans! Three pheromones to help you get ready for summer. We hope something on this list appeals to you! And don't forget to save 25% on your order with the coupon code LOVE4MEMORIAL!
What are your favorite summertime pheromones? Do you like to wear relaxing, de-stressing formulas, or do you go with something more stimulating? Share your thoughts in the comments! You can also contact us directly to share your comments, questions, and concerns. And be sure to subscribe to our newsletter to get free samples and to hear about coupons, website updates, new products, and more!
These statements have not been evaluated by the Food and Drug Administration. These products are not intended to diagnose, treat, cure, or prevent any disease.