New Product: Black Onyx Perfumes!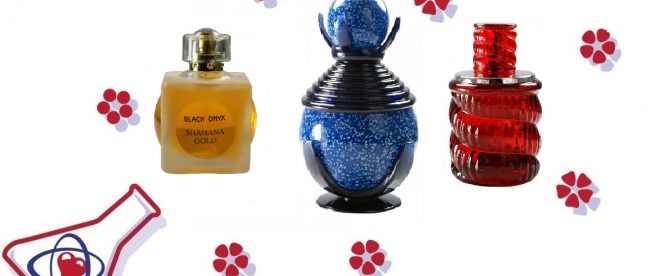 Happy Friday, Love Scent fans!
We have two announcements for you!
First, it's almost Easter, and that means it's time for our Easter promotion. Just use the code EASTERJOY at checkout to get 25% off your order. This offer is good storewide and is only here for a limited time, so have a look through our catalog now!
Second, we have several new products in our catalog! We recently acquired seven new perfumes for women. All of them are European fragrances, and all of them are waiting for you to try them out!
We'll take a look at those new products in a moment. First, let's go over the importance of cover fragrances when using pheromones.
Cover fragrances are fragrances that mask the unpleasant odors that many pheromones have. It's a misconception that pheromones don't smell like anything: most actually do have some smell of their own, whether it's a sweet musky smell or a strong body odor smell or something even more intense. When pheromone companies like Love Scent refer to "scented" and "unscented" pheromones, we're specifying whether the bottle of pheromones also has a cover fragrance added. Scented pheromones do have a cover fragrance already in the bottle; unscented pheromones do not, and need to be paired with a fragrance for best results.
So, the "unscented" pheromones in our catalog usually do actually have a scent, and that scent is often not a very pleasant one. Some pheromones, as many of you know, have stronger scents than others: Alpha-7 Unscented, for example, smell strongly of body odor to most people, and Essence of a Woman (and its replacement, Love Scent Copulin Concentrate) has a famously overwhelming smell. You don't want to wear them without covering their natural smell up with a fragrance of some kind.
When we explain this to customers, we often get the same question: if you cover up the pheromones with a cologne or perfume, doesn't that make the pheromones useless? Don't worry: it doesn't interfere at all! As we've discussed before, pheromones are detected by a very specific organ in your nose. That organ, called the VNO, can still detect the pheromones even if you're wearing a cover fragrance. But the other parts of your nose, which detect regular smells, will smell the cover fragrance instead of the stinky pheromones.
So, if anything, cover fragrances make the pheromones more effective: they make sure the person you're trying to attract smells a nice cover fragrance instead of body odor or something worse. Also, if you're wearing a cover fragrance that people really like, they'll get closer to you to get a better sniff–meaning that they'll be more exposed to the pheromones and the pheromones will have a stronger effect. For this reason, we generally recommend pairing all unscented pheromones with a cover fragrance, even if they don't especially need it…unless, of course, you're allergic to fragrances, in which case you can skip the perfume as long as the pheromones don't smell too intense on their own!
Really, you should think of cover fragrances as another layer of complexity in your pheromones. Scent is very closely linked with our emotions, because the information gathered by our noses passes through brain regions that are linked to emotion and memory. Scents can trigger good and bad memories, arouse strong emotional responses, and much more. They're a powerful tool even when they're not paired with pheromones, and their importance shouldn't be ignored.
All of this leads to another question: how do you go about choosing the right cover fragrance for your pheromones? Here are some quick tips to keep in mind:
Make sure the cover fragrance is strong enough to cover up the pheromones if they have a strong natural smell. Some more delicate fragrances won't be able to mask the strongest-smelling pheromones. Use your best judgment.
If you're trying to attract someone, go with a fragrance you know they like. If they already like your current cologne or perfume, there's no need to change it! And if you know they find your current cologne or perfume off-putting, it's time to find something else–pheromones are powerful, but they can't make a person like a scent they don't like to begin with.
If you prefer essential oils, you can certainly use them to make a DIY cologne or perfume. Read up on how to pair essential oils with pheromones here!
Perhaps most importantly, wear something you like! Wearing a fragrance that makes you feel good can work wonders for your confidence, which is always a good thing!
All right! Now that we've gone over the importance of cover fragrances, let's take a look at the new perfumes we have to offer! All of these options are by the European perfumer Kecofa, and all of them are from Kecofa's "Black Onyx" line.
1. Concrete ($9.95)
Concrete is the first new addition to our catalog. It comes in a striking bottle that is almost a work of modern art all by itself.
Concrete contains a mix of spicy and floral fragrances that give the wearer a fresh and youthful vibe. It evokes lush summer meadows full of blooming flowers and is carried by a refreshing citrus burst, but an undercurrent of cinnamon spice to keep everything grounded.
A 100 ml bottle of Concrete is yours for $9.95. Try it out today!
2. Deadly Passion – Red ($9.95)
Deadly Passion – Red is one member of Black Onyx's Deadly Passions line. The bold glass bottle resembles a snake coiled up around its prey.
Deadly Passion – Red has a striking, balanced fragrance. It contains sweet notes of jasmine and gardenia, as well as musky ambergris, warm sandalwood, and earthy patchouli. It's an attention-getting and unforgettable scent.
A 100 ml bottle of Deadly Passion – Red is yours for $9.95. Bring a bottle home today!
3. Female Erotics ($9.95)
Female Erotics is an example of a perfume that is as much of a conversation piece as a cover fragrance! The frosted glass bottle is shaped like a woman's body, and comes paired with a protective tin bearing a retro design.
Female Erotics has a sweet, sexy scent profile. Sweet notes of orange blossom, pear, and mandarin pair with the powerful florals of rose and orchid, all carried by amber and musk. It's a timeless, decidedly feminine fragrance.
A 100 ml decorative bottle of Female Erotics is yours for $9.95. Order yours now!
4. Ocean Breeze ($9.95)
Ocean Breeze is light, refreshing, and carefree. It will remind you of days spent strolling the seaside and relaxing in the fresh air.
Ocean Breeze contains a mellow blend of spices and florals. Top notes of spices and citrus are joined by woodsy vetiver and sandalwood, as well as the sweet scents of amber, lily, jasmine, and mayroses.
A 100 ml bottle of Ocean Breeze can be yours for $9.95. Order today!
5. Shades of the Orient ($9.95)
This is another one that doubles as art for your perfume shelf. Shades of the Orient comes to you in a striking blue bottle that evokes legends of genies, adventurers, and grand palaces.
Shades of the Orient is a spicy and sultry fragrance. Hints of gloves, cinnamon, and nutmeg combine with sweet florals and musky grasses, with a sharp citrusy note running through it all.
A 100 ml bottle of Shades of the Orient is yours for $9.95. Get yours today!
6. Shahana Gold ($9.95)
Shahana Gold is a casual, everyday fragrance. Its fruity-floral blend evokes sweet summer days spent wandering through markets and cafes.
Shahana Gold's fragrance notes include crisp apple and tangy lemon, fresh bamboo and sweet jasmine, all on a smooth base of amber, musk, and cedar.
A 100 ml bottle of Shahana Gold is yours for $9.95. Order a bottle today!
7. Yellow Light ($9.95)
Yellow Light is a citrusy and floral fragrance. Its warm sweetness will remind you of sunshine and bright, happy days.
Yellow Light contains a blend of citrus and flowers, including carnations, ylang-ylang, and lily of the valley, with undertones of  musk, sandalwood, and vanilla.
A 100 ml bottle of Yellow Light is $9.95. Get your bottle now!
There you have it, Love Scent fans! Seven new cover fragrances for you to choose from, and some more knowledge on why using a cover fragrance is an important part of using pheromones!
What do you think of our new perfumes? Which one do you want to try first? Let us know below! Also feel free to contact us directly with any questions (about these perfumes or anything else), comments, or concerns. And be sure to subscribe to our newsletter to be the first to hear about blog posts, exclusive promotions, new products, and more!
These statements have not been evaluated by the Food and Drug Administration. These products are not intended to diagnose, treat, cure, or prevent any disease.