Product Spotlight: New Pheromone Additive for Men (NPA)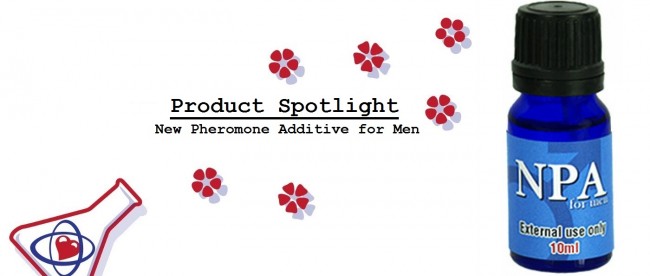 This week has been a great one for many Love Scent fans, since we just got brand new stock of a crowd favorite: New Pheromone Additive for Men! Now available in a new standard 10ml bottle for a limited time price of only $44.95, NPA for Men is a fantastic additive product for men, so we thought we'd use this week's blog post to take a short look at what makes NPA for men so great.
It's a perfect product to add to any fragrance
The keyword in the product name is "additive", because the best way to use NPA for men is to add it to any of your favorite colognes. NPA is unscented, and like most unscented pheromones, it works the most effectively when covered and enhanced by a great fragrance. Plus, this is a great time to try out a new fragrance, because we've recently added several new brand colognes to our catalog.
There are two ways you can go about adding NPA to a cologne. First, you can simply apply a drop of NPA to wherever you normally apply pheromones, and then spray over it with a cologne. This is probably the easiest method, and is great for when you are first experimenting with the product because you can change how much NPA and how much cologne you use every time, so that you can find the best ratio. Secondly, you can try making your own scented pheromone cologne by mixing NPA and cologne together in a pocket atomizer (now included free in every order over $50). If you already know what ratio of NPA to cologne works best for you, this method is great since you can simply mix up a bunch at once and have it ready to use with one spray bottle any time you need it.
The pheromone formula is powerful and tested
NPA for Men has been around for a long time, and the only difference between this new version of the product and the old version is the bottle. Each 10ml bottle includes 2mg androsteNONE, 1mg androsteNOL, and 0.5mg androsteDIENONE. This combination of pheromones is powerful for attraction, and also great for every day socializing. The NONE base gives it a big punch when it comes to attraction and your general confidence level, and the NOL and DIENONE bring it back down to earth a bit, tempering the aggressive effects of the NONE. The result is a formula that is great for use in most situations for most people. If you're looking for a product that is powerful but not too aggressive, NPA for Men should be perfect for your needs.
NPA for Men is one of our most popular products for a reason, and we're super excited to have it in stock again (and in a new, fancier bottle!). If you have any questions, comments, or concerns about NPA for Men, please let us know in the comments. Also make sure to subscribe to our newsletter to receive free samples and be updated whenever we add a new blog post or start running a new sale.
These statements have not been evaluated by the Food and Drug Administration. This product is not intended to diagnose, treat, cure, or prevent any disease.