Pheromone Of The Month: Liquid Trust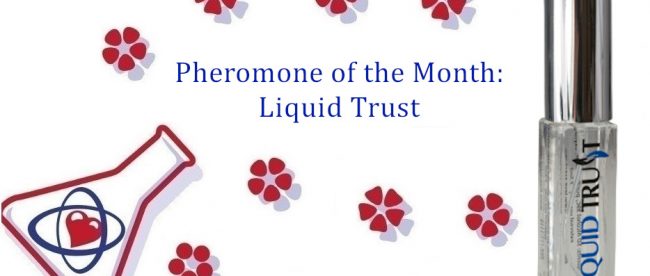 Happy Friday, Love Scent fans!
Today, we're taking a look at one of our most popular pheromones, and February's pheromone of the month: Liquid Trust!
Liquid Trust is our second most popular product, right behind the Love Scent Pheromone Oils. It's a great everyday pheromone that works well for just about everyone, whether you're brand-new to pheromones or have been using them for years. It's also a product that's suitable for use in most environments, from your private life to your professional life and everything in between!
Let's dive in for a closer look!
"THE CUDDLE PHEROMONE"
The key to Liquid Trust's long list of benefits: its key ingredient. It contains a social pheromone that plays a central role in a wide variety of human behaviors.
Liquid Trust's social pheromones have a strong effect on your relationships with others. Like many social pheromones, it can help improve your bond with your romantic and sexual partners. It does this by helping bring your walls down and trust one another, creating a longer-lasting, deeper bond rather than surface-level attraction. These effects have earned it the nickname "the cuddle pheromone," or even "the love pheromone."
Liquid Trust doesn't just have benefits for your love life, though! The same pheromone also plays a role in your platonic relationships. Your bonds with family members and friends can benefit too. You'll feel more relaxed in one another's presence and enjoy each other's company more. Big family events, road trips with your friends, or just a fun night out can all be more pleasant experiences.
In addition to helping improve your relationships with others, Liquid Trust also has a long list of beneficial self-effects. Remember, these are the effects that you, the wearer, feel when you're wearing a pheromone. Many pheromone fans report that Liquid Trust decreases their stress and improves their mood. This lets you get more enjoyment out of social events, professional situations, and even your free time!
So, whether you want to improve your romantic relationships, platonic relationships, or relationship with yourself, Liquid Trust is there to help. If any of this sounds appealing to you, this is a great product to try!
EASY TO USE–ANYWHERE!
Another reason Liquid Trust is so popular: unlike many pheromones, it's suitable for use just about anywhere. And we don't just mean you can use it in your romantic relationships and platonic relationships! You can use it on a date or out with friends, but you can also wear it to work, to school, on an airplane–anywhere!
There are 2 main reasons you can use Liquid Trust anywhere you like: its lack of unpleasant side effects, and its lack of a natural odor.
Some pheromones, especially "single-molecule" formulas that only contain one type of pheromone, can have unpleasant side effects. A strong sex pheromone can be too intimidating, for example. A pheromone like that can agitate people if you wear the wrong amount or use it in the wrong environment. But Liquid Trust has no unpleasant side effects to speak of, so you can wear as much as you like, wherever you like–from a bar to a boardroom.
Liquid Trust is also fragrance-free, and has no noticeable pheromone odor. You don't need to pair it with a cologne or perfume, because it does not smell like much on its own. This allows you to use it in places that don't allow fragrances, such as scent-free offices, and around people who are sensitive to perfumes and colognes.
If you want a pheromone that you can wear anytime, anyplace, without wondering about potential unpleasant results, Liquid Trust is for you. It's the ultimate fuss-free pheromone!
PAIRS WELL WITH EVERYTHING
As you've probably guessed based on everything we've said so far, Liquid Trust works great on its own. But it's also a perfect accompaniment to just about any other pheromone. If you want to pair it with something else, you can use it to either counterbalance potentially unpleasant effects, or complement another product's benefits.
Pairing Liquid Trust with Alpha-7 Unscented, for example, reduces the likelihood that the strong sex pheromones in Alpha-7 will intimidate or agitate other people. Many people find that Alpha-7 is too strong on its own and can result in unpleasant interactions. Adding a spray of Liquid Trust to the mix smooths out those rough edges and reduces the likelihood of a bad experience. This helps Alpha-7 work better for the wearer than it would when worn on its own.
Pairing Liquid Trust with Primal Women, on the other hand, helps accentuate Primal Women's benefits. Primal Women contains a blend of social and sexual pheromones. It's designed to improve the physical and emotional bond between couples. But sometimes the emotional bond needs some extra help. Adding in a spray of Liquid Trust uses another pheromone's emotional benefits to make the desired effects more likely. It's basically a way to cover all your bases!
So, whether you've never dabbled in mixing pheromones together, or have a fully-stocked at-home pheromone lab to make all kinds of mixes, Liquid Trust is a great addition to your collection. It goes well with anything, and you can wear it anytime and anywhere you like. What more could you ask for?
There you have it, Love Scent fans! Everything you need to know about the ever-popular Liquid Trust. We hope you give this one a try if you haven't already!
Have you used Liquid Trust? What did you think? Do you wear it on its own, as part of a mix, or both? Tell us about it in the comments! You can also contact us directly with your thoughts, questions, and concerns. And be sure to subscribe to our newsletter to get free samples and to hear about coupons, new products, and more!
These statements have not been evaluated by the Food and Drug Administration. These products are not intended to diagnose, treat, cure, or prevent any disease.