Pheromones And Essential Oils
Happy Friday, Love Scent fans!
Remember, you still have time to save 35% on your next order with our New Year sale! Just use the code HAPPYNEWYEAR22 at checkout to save on all your Love Scent favorites. Whether you need to restock on your go-to pheromone fragrances, want to experiment with massage candles, or need a great cover scent, now's the perfect time to order. This sale only lasts til the end of January, so order now while the savings last!
Now, on to today's topic: some excellent ways to pair pheromones and essential oils!
When you think about it, pheromones and essential oils make natural partners. They are both scent compounds that have an effect on the person smelling them. We've been using essential oils for thousands of years for a wide variety of reasons, and pheromones have been with us–well, forever! Putting them together is a great way to make some positive changes to your life.
When choosing an essential oil to pair with your favorite pheromones, it's important to understand that different essential oils have different effects. Lavender essential oil, for example, is a relaxing, soothing oil that many people use as a sleep aid at bedtime. Peppermint essential oil, on the other hand, is stimulating to the mind and body. Just as it's important to choose the right pheromone for the job, you must also choose the right essential oil!
Another thing to keep in mind when using essential oils: safety. Essential oils must be diluted in a carrier liquid, ideally to 5% concentration or less, before you apply them to your skin. Using undiluted essential oils can cause a bad skin reaction called sensitization–basically a nasty allergic reaction. Also make sure that the essential oil you're considering is safe to use for everyone in your household. Some essential oils, for example, can be dangerous to children or pets. A little research goes a long way to using these oils safely!
Once you've done your homework, you can start using pheromones and essential oils together! They can bring out each other's best qualities and help you make the most of both.
Ready to explore some ideas? Let's dive in!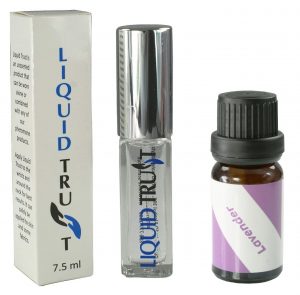 It would be hard to find a more natural pairing than Liquid Trust and Lavender essential oil! Liquid Trust contains a social pheromone that can help relax the mind and soothe away stress. And Lavender essential oil is world-renowned for its ability to reduce stress and anxiety. Both products can help you unwind after hectic days, and can help groups of people feel more at ease with one another. What's not to like?
Remember, you'll need to dilute the Lavender essential oil before applying it to your skin. You can either dilute it in a carrier liquid and apply it separately, or dilute it directly into the Liquid Trust. (If you don't want to turn your entire bottle of Liquid Trust into a Lavender-scented spray, you can put some of it in a separate container first, such as a pocket atomizer.) Apply to the pulse points like your wrists and throat, and behind your ears!
A 10 ml euro dropper bottle of Lavender essential oil is $5.95, and a 7.5 ml spray bottle of Liquid Trust is $24.95. If you're interested in using pheromones and essential oils together, this is a great pair to start with!
Another natural pairing of pheromones and essential oils: Alpha-7 Unscented and Peppermint essential oil. Alpha-7 Unscented is a potent, intense sex pheromone that many people use for its stimulating, confidence-boosting effects. Peppermint essential oil is many aromatherapists' go-to for mentally stimulating, circulation-improving essential oil blends. This is a great combo for anyone who needs to feel focused, confident, and ready to tackle anything before them!
As with all essential oils, you'll need to dilute the Peppermint essential oil before you put it on your skin. Either dilute it directly into the Alpha-7 Unscented (we recommend making small batches by putting some Alpha-7 into a roll-on before adding the Peppermint oil), or dilute the Peppermint oil in a separate carrier and apply separately. Apply to the pulse points such as the wrists and throat and get ready to take on the day!
A 10 ml euro dropper bottle of Peppermint essential oil is $5.95, and a 10 ml euro dropper bottle of Alpha-7 Unscented is $49.95. Order today!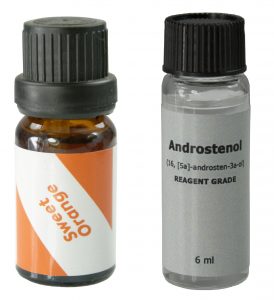 If you're looking for a pheromone-essential oil combo that will have you feeling mentally and physically refreshed, try this pair! Research shows that Sweet Orange essential oil has a positive effect on mood in people of all ages, and may help increase energy levels. And AndrosteNOL is especially well-known amount pheromone fans as a mood-booster, stress-reliever, and solid all-purpose pheromone. This is a great combo to use whenever you need a mental boost!
As we've said, all essential oils–Sweet Orange oil included–must be diluted before you put them on your skin. This is also the case with pure pheromones like pure AndrosteNOL! You can dilute them 2 ways: (1) dilute both of them into the same carrier oil (Sweet Orange oil to a 5% concentration, and pure AndrosteNOL to a concentration of 1 drop per 5 ml) and apply both at the same time; or (2) dilute them into separate carriers and apply one at a time. Go with whatever works for you! Wear them on your pulse points for best results.
A 10 ml euro dropper bottle of Sweet Orange essential oil is $5.95, and a 6 ml screw-cap bottle of pure AndrosteNOL is $39.95. This is a great way to use pheromones and essential oils together, so order today!
There you have it, Love Scent fans! If you've been wanting to combine the benefits of pheromones and essential oils, we hope these recommendations can get you started. And don't forget to save 35% on any of the above products by entering the code HAPPYNEWYEAR22 at checkout!
Have you ever used pheromones and essential oils together? Which products did you pair, and how did it turn out? Tell us about it in the comments! You can also contact us directly with your comments, questions, and concerns. And be sure to subscribe to our newsletter to get free samples and to hear about coupons, new products, and more!
These statements have not been evaluated by the Food and Drug Administration. These products are not intended to diagnose, treat, cure, or prevent any disease.