3 Pheromones For Family Holidays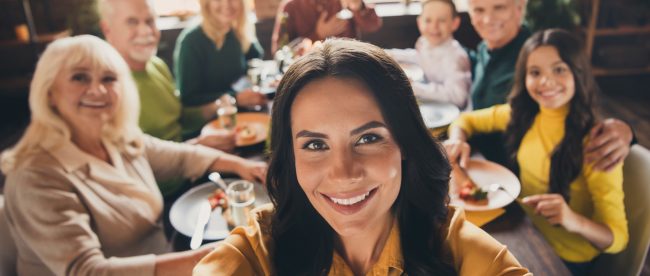 Happy Friday, Love Scent fans!
We hope everyone had a safe and happy Halloween this year!
Now that Halloween has passed, we have some big family holidays coming up, both here in the US and around the world. And while pheromones are generally more associated with your romantic life, they certainly have their place at family events too!
When choosing pheromones for family gatherings, it's generally best to go with social pheromones. Social pheromones keep people relaxed, help maintain a light and happy mood, and can overall make for a fun and memorable gathering. These qualities make them an ideal accompaniment to any family event, and especially big holiday gatherings!
Let's take a look at our 3 best pheromones for family time!
The Love Scent Pheromone Oils are our most popular products, and some of our very best pheromones for family gatherings. They contain AndrosteNOL, a versatile social pheromone that many people use as a mood-booster and stress-reliever. AndrosteNOL can make interactions with anyone, including family, more pleasant and enjoyable. These are the perfect choice if you want everyone at your family holiday to be in a great mood!
The Love Scent Pheromone Oils come in 10 different fragrance options. All of the fragrance options have the same pheromone content, so choose whichever fragrance suits your tastes! Then just apply 1-2 drops to your pulse points before your family's celebrations.
A 3.7 ml eyedropper bottle of Love Scent Pheromone Oils is $9.95. Order yours today!
Liquid Trust is our second-most popular product, right behind the Love Scent Pheromone Oils! It is an unscented social pheromone with a wide range of positive effects. It helps you feel closer and more connected to those around you, and can elevate the mood and reduce stress. This is a great pheromone for any social situation, but it's especially great for family gatherings!
Liquid Trust is unscented, and unlike most unscented pheromones it does not have much of a pheromone odor. Once the carrier liquid evaporates off, you likely won't smell anything at all! You can pair it with a cologne or perfume if you wish, or wear it by itself. Just apply a few sprays to your wrists and around your neck before your family holiday!
A 7.5 ml spray bottle of Liquid Trust is yours for $24.95. This is one of the best pheromones for family gatherings you could find, so order your bottle today!
If you want to take any of your favorite scents, body sprays, or essential oil blends and turn them into a relaxing pheromone fragrance, pure AndrosteNOL is the choice for you! This potent pheromone concentrate contains pure AndrosteNOL social pheromones that you can add to any fragrance you like. At a concentration of 1 mg/1 ml, you won't need to add very much to start experiencing AndrosteNOL's soothing, mood-elevating effects!
One thing to note about using a pure pheromone: you will need to dilute it before use. But don't worry, it's an easy process! Put 5 ml of your favorite fragrance in a separate container, such as a pocket atomizer. Then add a few drops of pure AndrosteNOL to your fragrance and mix it together thoroughly. And that's it! You're ready to wear this versatile social pheromone to all your family holiday gatherings!
A 6 ml bottle of pure AndrosteNOL concentrate is yours for $39.95. A little goes a very long way with this product, so order now and enjoy for years to come!
There you have it, Love Scent fans! Our best pheromones for family holidays. If you're getting together with family this winter, whether it's the family you were born into or the family of friends you've made for yourself, we hope you give one of these a try!
What are your favorite pheromones for family events? Do you go with social pheromones, or something else? Tell us about in the comments! Also feel free contact us directly to share your comments and questions. And be sure to subscribe to our newsletter to get free samples and to hear about coupons, new products, and more!
These statements have not been evaluated by the Food and Drug Administration. These products are not intended to diagnose, treat, cure, or prevent any disease.