Pheromone How-To: Travel With Pheromones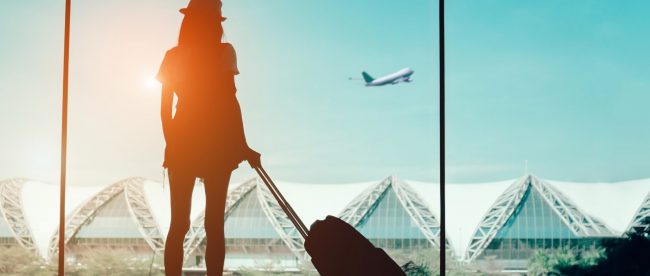 Happy Friday, Love Scent fans!
As a reminder, you can save 25% with our summer sale by using the code LUVTHESUN22! This offer is good on everything in the store, from pheromone colognes and perfumes to essential oils to pheromone supplies like empty spray bottles. Just enter the code at checkout to get your savings!
All right, on to today's topic! Today, we're adding another installment to our "Pheromone How-To" series, and talking about how to travel with pheromones!
There are plenty of reasons to bring pheromones along with you on your trips. Whether you're traveling for business, enjoying a romantic getaway, or having an adventure with friends, pheromones can enhance the experience!
If you'd like to travel with pheromones, the very first thing you need to do is choose the correct pheromones for the trip. With such a wide variety of pheromones available, you're sure to find something for your travel needs!
For example, if you're off on a business trip that will involve a lot of close-quarters meetings and in-person networking, a versatile social pheromone is a great choice. These include Liquid Trust, Super Primal for Him, and the Love Scent Pheromone Oils. These products keep everyone in a good mood, keep stress levels low, and improve social interactions. Those effects make them perfect for any professional setting!
If you're having a romantic getaway with your partner, a powerful sexual or romantic pheromone can make the trip unforgettable. Primal Women, SuperMone Pheromone Cologne, and Alpha-7 are all good choices. These pheromones encourage physical intimacy, emotional intimacy, or both! They'll help you make the most of your time alone together.
On the other hand, sometimes you just want to blow off steam and have fun with your friends! In that case, an all-purpose versatile pheromone is often the way to go! Chikara Pheromone Cologne, Edge Pheromone Cologne with Sandalwood, and NPA for Women are all good choices here. Their mix of positive self-effects and mild, un-aggressive effects on others are a great combo. You'll have a wonderful time, and so will everyone around you!
All right, now that you know what you're taking with you, it's time to consider logistics. How do you travel with pheromones? Do you bring the whole bottle, and risk it breaking in transit–plus lose space in your toiletry bag? What if you want to take multiple pheromones along?
Let's dive into our tips!
1. Travel Sizes
If you only want to bring a small amount of pheromones along–maybe for just a weekend getaway rather than an extended trip–we recommend taking smaller-sized products along. Some of our products are available in small sample or trial sizes, and some only come in small sizes. This makes it quick and easy to travel with pheromones!
These "travel size" products are:
These "travel size" products are a no-fuss way to travel with pheromones. Just order a small size to begin with, and you can pop it right into your luggage and be on your way!
2. Take A Little To Go
If you already have a go-to pheromone or two (or three), but don't want to bring your entire pheromone collection with you when you travel, we've got you covered! Popping a small amount of your favorite pheromones into a separate bottle makes it easy to travel with your faves while keeping the majority of your collection safe at home.
There are two ideal options for taking a small amount of pheromones with you: refillable atomizers and roll-on bottles. Both let you take just enough pheromones with you to cover your time spent traveling.
Our refillable glass atomizers have a sturdy, protective metal shell that keeps your favorite pheromones safe during your trip. To use them, just take the cap off the metal outer shell, pop out the inner glass atomizer, and unscrew the spray cap. Add the desired amount of pheromones to the bottle, and then tightly screw the cap back on and return the glass atomizer into its metal shell. And there you go! These atomizers are ideal for alcohol-based or water-based formulas, such as Chikara or Liquid Trust.
For oil-based products such as Alpha-7 or Primal Women, roll-on bottles are the best bet. Pop the roll-on insert out of the bottle and add however much of the product you'd like to take. If you're using an unscented product that needs a cover fragrance, add a bit of the cover fragrance right to the roll-on to simplify things! Then just pop the roll-on insert back into the bottle and cap it tightly. And you're all set!
So, even if you don't want to take a full bottle of your favorite product with you, it's easy to travel with pheromones. Just take a small amount with you whenever and wherever you need it!
3. DIY Pheromones On The Go
Another way to travel with pheromones: add them to the toiletries and other products you already take with you! Your lotions, body sprays, and fragrances can all act as carriers for your favorite pheromones.
Take a look at our DIY Pheromones category for lots of tips on adding pheromones to beauty products. You can add pheromones to essentially anything that goes on your skin! Moisturizing lotions, massage oils, body sprays and deodorants, colognes and perfumes, and even essential oil blends are all fair game!
So, if you're wondering how to travel with pheromones this summer, take a look at your usual toiletry bag for inspiration. By adding pheromones to your usual toiletries, you can maximize space in your luggage and simplify things while you're on the go. And who doesn't love simplicity while traveling?
There you have it, Love Scent fans! Our tips on how to travel with pheromones. And don't forget to save 25% when you stock up on pheromones for your next trip by using the coupon code LUVTHESUN22 at checkout!
Do you travel with pheromones often? What are your tips for keeping things simple when bringing your pheromones with you? Tell us about it in the comments! You can also contact us directly to share your comments, questions, and concerns. And be sure to subscribe to our newsletter to get free samples and to hear about coupons, new products, and more!
These statements have not been evaluated by the Food and Drug Administration. These products are not intended to diagnose, treat, cure, or prevent any disease.